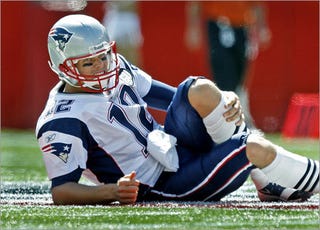 As the world holds its collective breath awaiting official word on Tom Brady's knee injury, bloggers are working through their apprehension and grief the only way they know how; with wild, panicky speculation. Here's a sampling ...
•
A Letter From God Addressed To New England Patriot Fans
. Let's face it Boston, you've had a great run on my watch. But yesterday at around 1:10 EST we had to shut down Heaven because you flooded our servers with your prayers. While I applaud your zeal, we just can't keep up with all the sports related prayers in Boston all of the time. I know it's hard for you to believe, but I've got a few more pressing issues. P.S. — I don't want to be seeing one of those
Hitler videos
about this thing either ... [
Blue Monkey Disco Party
]•
'Every Time The Fans Cheered I Looked Over At The Door'
. Given the reports about the severity of Brady's injury, Randy Moss's description of his feelings during the game just twists the knife a little for New England fans:
"I was like a little kid at the candy store just hoping you would see that No. 12 come out those doors and up the steps. Like I said, every time the fans cheered I looked at that door so basically I was just snapping my neck around every time. Late in the fourth quarter and after halftime, when I knew he wasn't coming back, I don't know his injury or what happened but all I know is he didn't come back."
[
The Patriot Act
] •
Running Blog: We're Screwed
. 2:10 Doogie Howser, M.D. is in Bob Kraft's luxury box. What's he doing up there? He should be down in the trainer's room taking a look at Brady's leg. For God's sake, he used to be a doctor for pretend! The Patriots need all hands on deck. [
The Boston Score
] •
Attention Bob Kraft: Sign Daunte Culpeper To Patriots. Now
. This makes complete sense. Say Tom Brady is out for 4-6 weeks. Daunte can step right in and control the field more comfortably than Matt Cassel. Plus, he is able to thrown downfield far better - and is less likely to make the crucial mistake. Meanwhile, Tom Brady won't need to hurry back considering their cupcake schedule and Daunte's ability to lead the team. [
InGameNow
] •
Patriots Look At Simms, Maybe Others
. So, based on my beliefs, this leaves veteran Vinny Testaverde as the best option. I understand that he has too many years under his belt, but he already knows the system, he can serve as a mentor to Cassel, and if he had to play, he could lead the team. Plus, Cassel would see him more as a calming figure than a guy who will threaten his job. [
A Patriots Blog
] •
Breaking News: Brady Reportedly Out For The Season
. Personally, I would have preferred to see Brady lose to the Jets, so while this (potential for an improbable Mo Lewis / Drew Bledsoe scenario notwithstanding) should help the Jets, it is somewhat of an empty victory. However, I am sure there are those of you that are rejoicing right now. That self-satisfaction you are taking in the misfortune of another…Bradenfreude. [
The Jets Blog
]