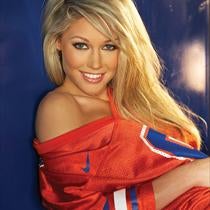 This month's Playboy cover model is a Florida gal who calls herself "Kelly Carrington" (a pseudonym she used for the magazine; her real names is Kelly Hemberger ) and she's a proud SEC lassie through and through. From her poofy blond hair, to that dimwitted twinkle, to the gratuitous Big 10 bashing . Carrington's shoot falls on the same month as Playboy's annual "Girls Of The Big Ten" issue, so it did seem a little odd that they went with the U of F public relations major for the cover. "Carrington" told the Gainesville Sun why she thinks that decision was made:
"There weren't any girls from the Big Ten who were hot enough to be on the cover, so they had to pull someone from the SEC."
Carrington/Hemberger is currently lounging in LA,
doing the Bunny House-thing
, playing with monkeys and posing with other hefty-chested blond floozies in Hef's castle. This is an important time in Carrington's career, and depending on how the tit-showing works out for her, she may have to relocate to the West Coast permanently and transfer to USC. They have a much more challenging public relations program out there.
UF Student makes Playboy Cove
r [Gainesville Sun]