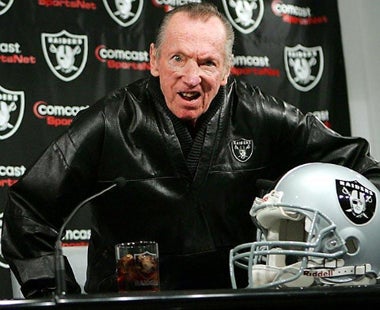 This man does not want your pity. Yes, the Oakland Raiders are 0-1, having created such a large vortex of suck on Sunday night against the visiting Broncos that pedestrians, buses, small businesses and I'm pretty sure my cat were inhaled into the blackness, never to be seen again. So bad was the thrashing that MIT temporarily suspended the laws of mathematics to eliminate Oakland from playoff contention after one week. But Al Davis remains defiant, continuing to openly decry, in order: the NFL, lawn trespassers, children, pets, the City of Los Angeles, the City of Oakland, continence, Mike Shanahan, songbirds, nature, sunlight, the running game, short passes, Lane Kiffin, puppies, and most significantly, reality. There is one difference between the Al Davis regime and that of Fidel Castro. In Cuba there's better cigars. Oh, and here's another one; when Castro became infirm and unable to properly lead the government, he had a brother to take over. Unfortunately, Davis' only living sibling was crushed by Dorothy's house at the beginning of The Wizard of Oz . Things are so bad in Oakland that Davis actually has me feeling bad for Raiders fans. Take this guy, for instance. How can you not feel pity for someone who takes all the time and effort to fashion this costume , only to have to trudge back to the bus stop following the game with nothing for which to feel hopeful? It's just very sad. Inside The NFL made its Showtime debut last night, and unfortunately for the Raiders, Warren Sapp is one of the hosts. In a conference call to promote the show , he had this to say about the team:
"As far as where the Raiders are going, they have unrealistic ideas about what their people can do," Sapp said. "That was the experience I had in the four years I was there. They asked people to do stuff they were physically impossible of doing. They asked a guy who hadn't coached for 12 years (Tom Walsh) to coach. They're going to suck."
Things are worse in Raider land than they've ever been, and that's saying something. "It's such a toxic atmosphere over there, that no one is willing to go out and give that 101st percent," said Ray Ratto of CBS Sporstline and the San Francisco Chronicle. "The relationship between Davis and Kiffin is as bad as advertised. They don't even talk to each other. Davis wants Kiffin to quit, and Kiffin won't go. And that's surprising, because Oakland has become a really great place to leave." Since losing Super Bowl XXXVII to Tampa Bay following the 2002 season, Oakland is 15-50, including
6-27
4-13 under Kiffin. But you can't really blame the coach; when he wanted to get rid of defensive coordinator Rob Ryan and bring in his own guy, Davis vetoed the move. So now Kiffin and Ryan go their own separate ways on the same staff — roommates who can't stand each other, but are forced to live together for financial reasons — with the result being pretty much what we saw in the second half this past Sunday. Being a Raiders head coach is not exactly a resume enhancer. Although
the guy from Los Gatos High might want to come in next year
and give it a shot. This may be the first team in history that's actually trying to lose. Kiffin wants to be fired, Davis is stubbornly refusing, thus in effect throwing in the towel after Week 1. Many players, no doubt, want out as well.
Anarchy reigns!
But for now, Al Davis runs Bartertown, and that's the way things are. Every league needs its unruly, outlaw biker stepchild, I suppose.
Oakland Raiders: A Team In Crisis
[San Francisco Examiner]