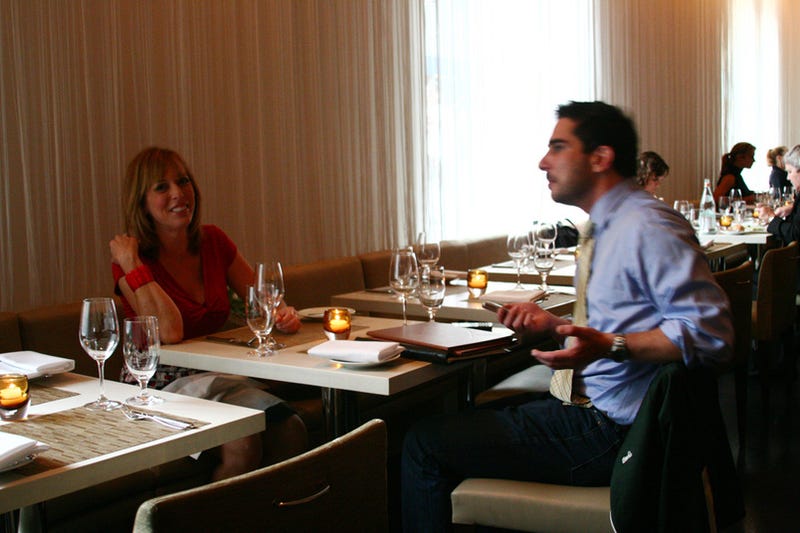 The first thing you notice about Linda Cohn is the voice. It's a definitive Long Island accent that is so pronounced it sounds like someone doing a bad Long Island accent impersonation. "Coffee Talk" in the flesh. And she laughs a lot. A giddy, crazy laugh that 's a bit jarring. We met in the lobby of the Sheraton Hotel on Tuesday night to go on our "date" as some sort of convoluted scheme I cooked up to help promote her book. She shook my hand like a professional. The book, from what I've read, is much different than what I expected. It's a very personalized memoir that covers all aspects of her life and her eventual ascent to ESPN prominence. It's a little uncomfortable to read about Linda Cohn's love life and the unraveling of her marriage. But, you know, that's why I figured a date would be appropriate. She's newly single, I'm newly single, let's let the ponies roam, right?
Well, Linda's PR team agreed to the date, but kept saying it in a way that they made sure I knew it was just a "play date" and not a "DATE-DATE".
"She just doesn't want to be a part of anything that might embarrass her kids."
Fine. Fair enough. To be honest, I've never really been on too many dates in my life. I'm one of those get-drunk-and-hook-up-with-the-first-person –who-talks-to-you-types. Hey, it's better than eHarmony.
Again, no. That won't happen, Linda Cohn's PR Machine told me.
"She has a very busy schedule and needs to be done by 9 and up early for an interview the next morning."
Fine. No binge-drinking. There went my plan of heading over to Cheap Shots in the East Village, chugging Cuervo and playing air hockey. This had to be a little more fancy and required more effort. So, I booked a reservation at Insieme, on 51st and 7th, which was near her hotel. I picked up a $5 bouquet of flowers at a random bodega and debated about the color. White seemed to be the safe choice. We walked over to the restaurant and started chit-chatting about the Mets and Phillies. She's one of those "my Mets"-types and she gets all fired up about it. Things are good, now, obviously for the Mets. She blabbed about Carlos Delgado and I briefly considered shoving her into traffic. I did not.
We arrived at the restaurant before 7, little lady by my side, and I opened the door all gentleman-like and we made our way over to the table. As soon as she Ms. Cohn squeezed into the booth she knocked a glass off the table next to us and it shattered all over the place. Out came the laugh.
"That's funny, right?" she asked.
As soon as we sat down, I had to ask her about that accent. That accent could break glass on its own.
" I talk about it in the book. While I was in college, Oz-wego State, I had a profess-er, great prof-esser, his name was Fritz, he said, 'You know yer gonna have to lose that accent when you go on TV.' And he told me to speak slow-er and open my mouth wider when I speak. And then I started dooo-in it and it worked, but what's cool is that I can instantly revert back to Lind-er that grew up in Long Island, that's soo-aw Long Island." It's like magic. She's like Meryl Streep.
She asked for a Shiraz from the waiter. They had none. He trotted out something fancy. She liked it. I had Grey Goose on the rocks with olives. We shared octopus carpaccio. She had some sort of fish with the skin on it. I had the veal chop. We went back to the Mets/Phillies. She's says Billy Wagner being out of it "will be good for the Mets." Then she starts talking about "Chawk-lit" and it hurts my ears. We move on to her job, which she loves whole-heartedly.
"Baseball Tonight is the most challenging show to host out of all of the shows at ESPN. Everything is on the fly. "
I ask her if she was pissed about monitoring the trade deadline all day with a roomful of ESPN's baseball experts only to have the Manny trade come across her desk at the last minute.
"That was so frickin' exciting, though! That's what makes ESPN News great. You see, ESPN news is what Sports Center used to be. You know, boom, instant, nuts and bolts. Yeah, but so much for that deadline, you know? But it was great to break that story through our family of networks…"