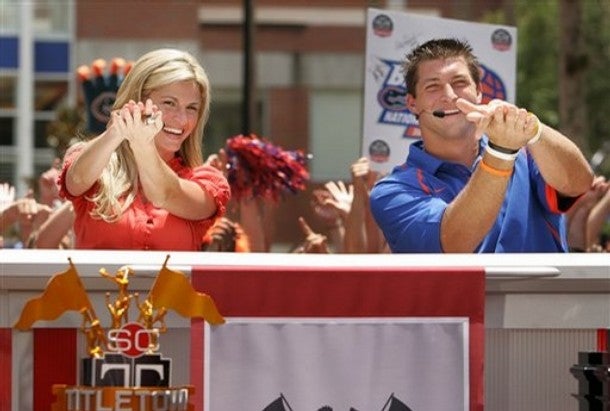 Erin Andrews, who now seems to live at the nexus of hotness and controversy in the world of sports (previous resident Anna Kournikova), is angered by suggestions that she shows favoritism for the Gators . The latest flareup arose when internet rumors spread that Andrews flipped off several Miami fans and turned her hands into an upside down U. Andrews quickly refuted the claims and lashed out at critics who question her objectivity in an interview with the Jacksonville Times-Union.
"I was upset when I heard this was an issue," Andrews said in a phone interview with the Times-Union. "I'm no dummy. I know people look at me in a different way. I know there's people when I go back to Florida, they say, 'Aha, she's biased [toward UF].' But there's an absolute separation between my feeling for the school and my reporting. If I once showed favoritism [on the air] or acted out in a biased way, [ESPN] would get rid of me in a minute."
Much of the belief that Andews is biased stems from the ill-conceived TitleTown segment when Andrews did the Gator Chomp alongside Tim Tebow. That and the fact that the Gators' on-field success has led to a love affair between ESPN and the team. It also doesn't help that Andrews operates from the sideline and gets close and chummy with players during interviews. Unlike, say, Kirk Herbstreit (who is an Ohio State grad and I would argue is accused of bias much more than Andrews), who is calling the games from a press box, Andrews seems more intimately connected to the action on the field. Having said that, I'm a Tennessee fan who hates the Gators with a passion, and Andrews has never stood out to me as particularly partisan towards the Gators. Now, in love with Tim Tebow, yes. But, let's be honest, aren't we all?
Andrews' objective: Silence accusations about bias
[Florida Times-Union]