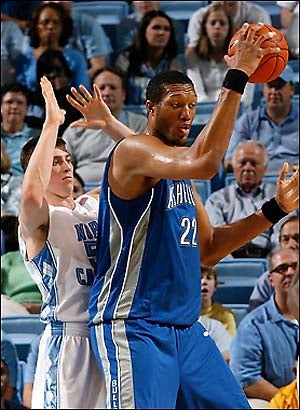 Kenny George plays for UNC-Asheville. Last season he averaged 12.4 points and 7 rebounds per game while leading the nation with a 69.6% shooting percentage. But his massive size has always been a problem for his feet. And now, after a second foot surgery this offseason, the AP says,
he's out for the season
. Some facts on George, he wears a size 28 shoe, has a wingspan of 8 feet 5 inches, and can dunk without leaving the ground. After the jump, enjoy the youtube highlight video retrospective for Kenny George. I guess the tape where Tyler Hansbrough dunks on him didn't make the cut.
Tallest basketball player may miss season
[Yahoo]