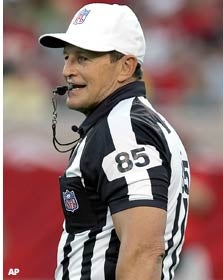 After Sunday's spastic whistle-blowing by big-armed referee Ed Hochuli cost the San Diego Chargers a victory in their shootout against Denver, the NFL has acted swiftly and strongly, downgrading the 19-year veteran for his error, which could impact his playoff game status and possibly his career. The NFL Referees Association issued a statement to the AP and is standing by Hochuli, trying their best to not let one of their most popular referees have an entire career blemished by his one atrocious call. And Hochuli is apparently going out of his way to apologize to furious San Diegans everywhere, many of whom bombarded him with emails at his law firm, according to the San Diego Tribune. In fact, Hochuli has reportedly responded to many fans with this email message where he gets all William Styron on everyone's asses.
I'm getting hundreds of emails – hate mail – but I'm responding to it all. People deserve a response. You can rest assured that nothing anyone can say can make me feel worse than I already feel about my mistake on the fumble play. You have no idea . . . Affecting the outcome of a game is a devastating feeling. Officials strive for perfection – I failed miserably. Although it does no good to say it, I am very, very sorry. Ed Hochuli
If that's true, that's kind of disturbing. It's also a little creepy given all of the reports about Hochuli being "
devastated"
by this to such a degree. I picture him quietly sitting in his law office, hugging a dumbbell, whistle around his neck, waiting for the next angry email to come through.
NFL Graded Down After Blown Call in Denver
[AP]
Chargers fans still looking to throw flag on NFL
[San Diego Tribune]