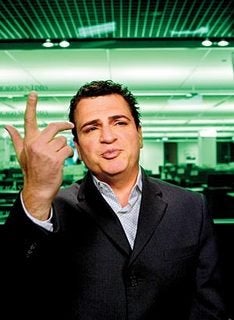 Attention, residents of Chicago: Jay Mariotti will not be coming to the Tribune. We repeat: Will NOT be employed there. This is official. (Wary citizens emerge from concrete bunkers, shielding eyes from the sun as "all clear" siren sounds). Although he proved as hard to kill as the evil robot in
Terminator II
, Mariotti is finally gone from the Chicago scene for good. Although they worked hard to make a deal happen, Tribune executives just couldn't clear all the legal hurdles it would have taken to bring Jay on board. At least that's the story they're going with. There should, mercifully, be no further chapters in this epic, since the word
is coming from the Chicago Tribune itself
:
Mariotti and Tribune "talked about television, about the Internet, about the newspaper,'' he said. Mariotti said that discussions about working for Tribune Co.'s Chicago Tribune newspaper became a stumbling block. "The Sun-Times' lawyer threatened me with a lawsuit in 64-point type. Things sort of stalled,'' he added. "At one point last week, there were lawyers on both sides looking into this,'' Mariotti said. "It's daunting to put together a deal. This [lawyer's letter] got thrown out in the middle of everything. We both decided that we can't do what we wanted to do.'' Sources at Tribune Co. confirmed conversations with Mariotti had been held, but Chicago Tribune Editor Gerould Kern would only say late Tuesday that "we have no plans to hire Jay Mariotti.''
First of all it's good to know that the Chicago Tribune writer here, Jim Kirk, has "sources within the Tribune Co." That's some mighty fine reportin' there, Lou. Secondly, are we sure that the reason the talks fell through was because someone got a letter from a lawyer? Wasn't that the first thing they should have been expecting? More believable would have been this scenario: "Tribune editorial staffers threatened to quit en masse if Mariotti was ever seen within a mile of the newsroom, and in addition vowed to loot and destroy Sam Zell's house like Tara in
Gone With the Wind
. Therefore, we have no plans to hire Jay Mariotti." Evidently there were strategies in place
to circumvent the Sun-Tiimes' no-compete clause
. But Mariotti's prospective hiring was so distasteful to Tribune editorial employees — especially in light of recent layoffs at the paper — that Zell and his apprentices, Darth Michaels and Grand Mof Abrams, may have been moved to abandon the plan. Anyway, Chicago's suffereing may be over, but America's certainly has not. The Tribune story ends with this chilling sentence:
Mariotti, who continues his regular stint on ESPN's "Around the Horn,'' said that he is talking with other national media outlets
. Could he be coming to your town? To
your
local newspaper? Bwa ha ha ha ha ha ha!
Former Sun-Times Columnist Mariotti Not Joining Tribune
[Chicago Tribune]