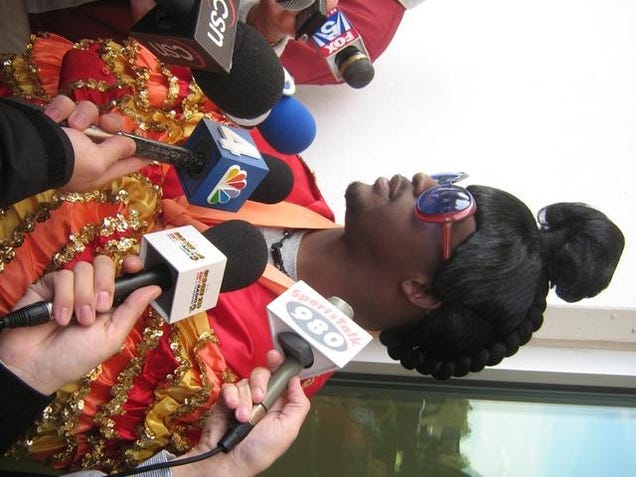 Yesterday, Clinton Portis went on John Thompson's radio show on WTEM 980 in Washington, D.C. and within minutes he and Thompson's co-host, former Redskin/Eagle Brian Mitchell , were at each others throats. B. Mitch has been critical of Portis in the past, which prompted the feud, and the
DC Sports Bog
has the highlights:
Portis
: "You think that I'm gonna back down? I ain't gonna back down."
Mitchell:
"If you ever want to go to that area, that'll be the wrong thing you do. Believe that. Believe that." More quotes after the jump. Believe that.In addition to questioning his desire, his work ethic, his conditioning, and basically anything else to do with him, the formerly most prolific kick returner in NFL history, were on the verge of throwing down with Portis in the studio:
Portis: What you go on TV and say, what you sit on your radio show and say, 'Portis need to shut up?' Portis gonna keep talking. Mitchell: You keep talking. Keep talking, bro. Portis: So the fools saying Portis need to shut up, they can kiss Portis's ass. I'm saying that. Ain't nothing gonna change, my man.... Mitchell: Clinton, I'm gonna tell you like this bro. I always talk. I'm an analyst. I analyze positive and negative. If you can't handle the negative.... Portis: You're a hater, that's what you are.... Host John Thompson: "Both of y'all are guys that we're both proud of, and when you see one another, eat a sausage sandwich, sit back and put your toes up and laugh about this crap."
Portis and Mitchell radio interview
[WTEM 980]
Breaking down Portis vs. Brian Mitchell
[DC Sports Bog]