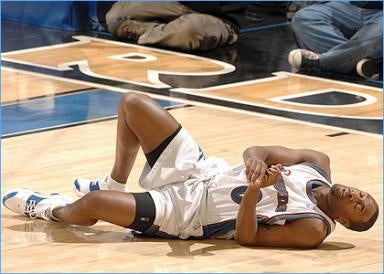 Let's play a little game called "What would I do?" First, imagine that you're Washington Wizards owner Abe Pollin. Now assume that you had just given a six-year, $111 million contract — guaranteed money, by the way — to an athlete coming off of two knee surgeries only to find out that he now required a third knee surgery which would sideline him until (at least) December. Would you a) suffer an involuntary bowel and bladder release, b) get drunk and start breaking things, c) use a frisbee to commit seppuku , or d) all of the above (although not necessarily in that order)? If you chose a, b, or c, please reread the question and try again.Fortunately for you and your wallet, you (probably) aren't Abe Pollin, because Agent Zero did indeed have a third surgery on his left knee:
"I just had some floating debris in there that was slowing me down," said Arenas, who seemed to be in good spirits. "It was irritating the knee so we decided to go in there and clean it out. This should actually allow me to come back faster."
Wow. Tough break for Wizards fans. But, as Lucky Day
shrewdly observed
in the Latin American classic
¡Three Amigos!
, each of us has an El Guapo to face. For some, shyness might be their El Guapo. For others, a lack of education might be their El Guapo. For the Amigos, El Guapo was a big, dangerous man who happened to be the
actual
El Guapo. And now it appears that a gimpy left knee has become Agent Zero's El Guapo. Still, "some floating debris" doesn't sound
Tom Brady-ish
or anything. And "out for roughly 14 games" is a hell of a lot better than "out for the season." But the fact that Gil has had three knee surgeries in less than a year and a half is giving me an ominous Grant Hill in Orlando vibe. Let's hope the whole thing is as casual as Gilbert is treating it, because as a friend told me in a text message: "It makes me sad because the NBA is much more fun with him playing."
Arenas to Miss Camp, Season's First Month After Surgery
[Washington Post]