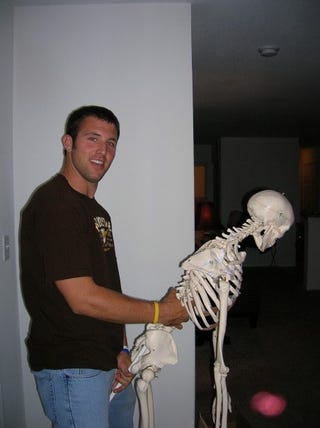 What better way to kick off your Wednesday evening then to have Chiefs' new starting quarterback Tyler Thigpen mock rear-entering a skeletal model. Maybe Coastal Carolina University had just recently generated enough funding to support a human anatomy class and he was just overly excited. Remember, the school's football program
began five years ago
. That actually might be one of the only groupies the team had. Or perhaps this is a more recent photo and Tyler is demonstrating what he's going to
do to the Atlanta Falcons defense this weekend
. Regardless of the motivation, rejoice Chiefs fans: your skeleton-banging quarterback is here to resuscitate your offense. Whitlock must be pumped. ******* Tonight, it's hump day, so find your own skeleton and get boning. Tomorrow, we've got an excerpt from Jeff Pearlman's ridiculously entertaining "
Boys Will Be Boys
" novel, plus Drew Magary's weekly Jamboroo fiasco. So, it'll be a great day to be stoned at work. Thank you for continued support of the People's Republic of Deadspin, the #1 sports website for trolls. And thank you for your additional support of Ball Don't Lie, the #1 sports website for news about
Snapple and New York Knick media hussies.