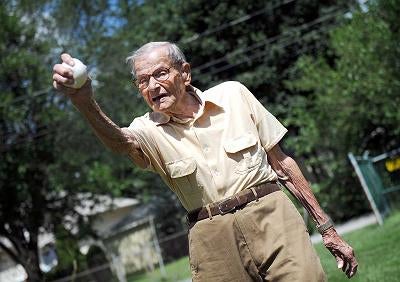 Awhile ago we told you the story of Leo Hildebrand , the 104-year-old Cubs fan whose one big wish was to throw out the first pitch for a game at Wrigley Field. Of course he'd probably need a relay man, and a diaper change to complete the task. But still, how could the Cubs deny the only person in Chicago who was alive when the team last won a World Series? The cry of Let Leo Pitch resonated throughout Cubdome. But it was not to be. Cubs spokesman Jason Carr — who in his spare time steals Christmas gifts from Whoville residents — said that the team "can't accommodate everyone." Yeah, pretty lame. But perhaps to stem a flow of negative publicity, the Cubs said that they will bring Leo to a game this weekend and let him sit in the Cubs dugout.
David Marggraf, the executive director of the senior living community where Hildebrand lives, said the Cubs were "very, very helpful." They offered him four free tickets and the chance to meet the players before the game.
John McCain received six free tickets.
104-Year-Old Cubs Fan Won't Get To Toss First Pitch
[Chicago Sun-Times]