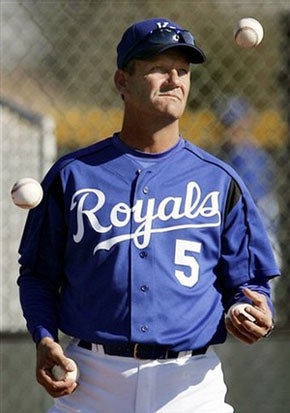 Not sure which spring training this video is from, but the video was just released to an unsuspecting public on Thursday, and is destined to go down as a classic; watch now as Royals Hall of Famer George Brett regales a teammate about the many times he's shit his pants. Seriously; Brett goes into great detail about this, and even at one point follows the poor guy across the field so that he can finish his story. At one point Brett says proudly: "I'm good twice a year for that. When's the last time you shit your pants?" America needs to know just how close it came to this being the subject of Brett's Hall of Fame induction speech. He is really into it. Video following the jump.
"The most perfect double-tapered shit of my life ... who are the pitchers in this game?" This quote will go down in baseball history along with Lou Gehrig's "Luckiest man on the face of the earth," as an enduring classic, I am certain. Man, what kind of a person
would discuss something like that
?
George Brett Apparently Shits His Pants A Lot
[YouTube]