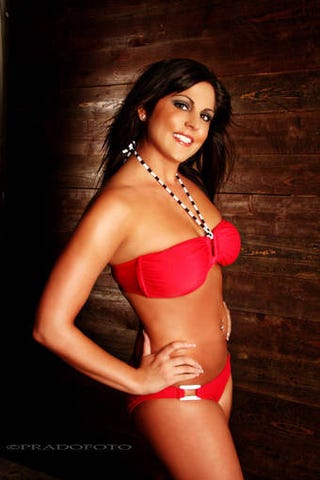 So yesterday, after I posted the
New York Daily News
story about Jose Reyes'
alleged side-sex lady
,"Bentley Matthews," Deadspin received an interesting email from an individual who said she was a relative of Ms. Matthews and claimed to know the "real identity of Jose Reyes' mistress." Fun. I was curious about the e-mailer's motivations and Bentley's story, so I responded to this woman and read what she had to say. Eventually, this led to a phone conversation early last evening. Bentley Matthews real name is Erica Rene Dufour, aspiring model, former Cali-area Hooters gal, and a woman who has a had a knack for bedding baseball players most of her young adult life. The source, a blood relative, requested anonymity but did say that Erica's family is well aware of her, hmmm, "relationships" with various ballplayers because (shock!) she's not very discreet about her dalliances. The source said "she's shown me pictures" and " I've gone to games with her" thanks to the seats Erica receives due to her pseudo-girlfriend status. After the Reyes stuff broke, her family is both a little "disappointed" and "concerned", but "not surprised" Erica is in this predicament. The reason the source knew about the Deadspin story to begin with was because "my brother showed it to me" after, apparently, Erica had sent along the link. Erica is freaking out a little bit over the potential scandal and she's been receiving lots of scathing emails from Mets fans calling her not-so-nice names. (Those poor people are having enough stress at
this time of the year
. It's not surprising they're a little touchy right now.) Erica's relative did not know if Jose has attempted to contact her since the story broke on
The Dirty,
but said that Ericaand Jose mostly communicate via text-message anyway. Erica is very smitten with Jose and, according to the source, had his name tattooed on her wrist but recently changed it to "two broken hearts" after Reyes got hitched. But he's not the first baseball player lucky enough to earn ink-status on Erica's body — apparently she had "Gary" tattooed "on the inside of her lip" after her tryst with Angels' outfielder Gary Matthews Jr. In fact they were so close that
he inspired her internet name
, the source said. Although she's no longer seeing Matthews, Erica does take the time out to acknowledge the alleged HGH-abuser's on-field accomplishments.(Via
Bentley's blog
: Wednesday, April 23, 2008: "Gary Matthews JR Hit his 100th Career Home Run". ) The source says Erica's run through a couple of the Angels players and then moved on to Toronto's Alex Rios for a little while. She can't remember where Erica met Jose, but just that they've been seeing each other for some time. When I asked the source if the publicity from this Reyes affair would discourage Erica from going after any more baseball players, she sighed and said "She'll probably just move on to basketball." NBA players — you've been warned.