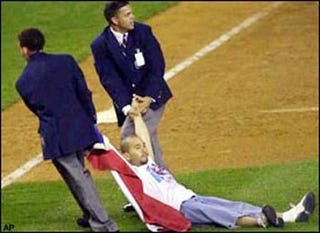 There are only three games remaining in old Yankee Stadium — they're already putting up the lettering on the new yard across the street — so we thought we'd pause for a moment to let Deadspin readers reminisce a bit. Here are your Yankee Stadium stories, and let me say that this has been some entertaining reading. In fact, there were so many good ones, that we're going to run Part II on Monday. So if you were tardy getting yours in, you still have the weekend. Yankee Stadium stories, Part I. Here we go ...
•
Oh, Canada!
. I'm at the stadium, sitting along the third base line for a Blue Jays/Yankees game. This is the early Nineties, when Toronto ruled the AL East and the Yankees roster was stocked with guys like Hensley Meulens and Kevin Maas. Anyway, it's a big crowd and four Wall Street looking guys sit down in front of us, all of them in suits and one of them wearing a Blue Jays cap. Turns out they were all from Toronto, and one of them yells something innocuous at Joe Carter trots into the dugout right before the game. Immediately, this big guy in a Mattingly gamer and a shaved head stands up, points at them and says, "I don't want a hear another fucking peep out of you for the rest of the night." The Canadians all laugh and dismiss the guy as just another New York lunatic. Two minutes later, Bob Sheppard asks us to rise for the singing of the Canadian national anthem. The Canadian guy in the Blue Jays hat starts singing along, and right at the phrase "our home and native land" gets hit in the face with a full beer and then knocked the fuck out by Mattingly Gamer, who punctuates the assault by shouting, "Fucking Eskimos! You were warned!" —
Tom Sullivan
•
Tonight We Have A Big Shoe For You, A Really Big Shoe
. My dad was a huge Yankee fan and took me to Yankee Stadium to celebrate my First Communion in 1964. We had field level seats on the first base side, back from the field, just under the overhang. A few innings into the game, the Yankees are losing, when suddenly I hear a 'bang'. I turn to my dad, and realize there is blood running down the side of his head. Apparently someone in the first row of the loge seating had kicked off his shoe and it had fallen and hit my father in the head. There was blood all over him. The ushers grabbed my dad and took him, and me, to the infirmary under Yankee Stadium. They stitched up my dad's head while I sat outside and looked in ... they didn't want me in there while they cleaned him up. We eventually got back to our seats, and my dad was really upset. I thought it was because of the shoe incident, but I found out later, it was because the Yankees had come back and were winning when we got back to our seats and he hadn't been able to see it. My dad passed away 15 years ago... my mom still has the shoe... —
Edward J. Woods
•
Roger And Me
. 2000 Subway Series, my daughter is 2 months old. My brother in law calls me the morning of game 2 with 2 extra tickets. I am a Met fan of course. My wife wants a night out so I take her. Our seats happen to be in the right field bleachers. I had never sat there before, but it was the Series and Clemens was pitching. Wore my Met hat, and people starting cursing at us as we took our seats. My wife is not a sports fan, and never had been in this environment. She took the heckling personally, and started screaming back at the fans. Made fun of one guys mustache, called a woman ugly and said she hoped she never had children. Thought I was in trouble. Well, I was. Then the bat incident came. There was a stunned silence, as the roid raging Clemens fired the shard back at Piazza. I thought I was going to see my first on field brawl in person, but had to settle for the one taking place 3 rows in front of me. A mets fan lost his mind and started pushing 3 or 4 guys. I was looking for the cops, and praying I wasn't going to get the crap kicked out of me. Real NYPD came down, restored order and stayed the rest of the game. To this day, my wife has not gone back to a sporting event with me. I would like to take this opportunity to thank Roger Clemens for that. —
crazyjoedavola
•
John Rocker Unites Us All
. I have never been a Yankees fan — I think King George is one of the worst things to happen to sports, the players loose their personalities when they step on the field, and lots of the fans are arrogant bandwagon jumpers. However, having lived in New York for 14 years, I have been to my share of home games, but have never found the stadium to be especially magical, since the renovation stripped most of the character of the stadium and turned it into another mid-70's multi-use monstrosity. By far the most memorable game I ever went to was in 2001 when John Rocker was pitching for the Indians. It was a weekend day game, which draws a audience made up of die-hard fans, casual observers, kids, and a lot of shirtless drunks. Towards the end of the game, the stadium was full of the usual activities — drunken brawls in the bleacher seats, fat guys in Jeter jerseys sweating in the upper deck sunshine, and intermittent chants of "Let's Go Yankees!" mixed with fans more interested in eating ice cream out of a little helmet than watching the game. However all that changed when John Rocker charged out to the mound in relief. As a body the entire stadium stood and showered him with with most vile, imaginative abuse I have ever heard in public. Everyone — young old, male, female, black, white, Hispanic or Asian stood as one and booed him. The noise lasted throughout his warm-up, and continued every time he touched the ball. No one needed a sign on the scoreboard to make some noise, or promoting from the organ — we just all knew to instinctively to turn our abuse on the man on the mound, and not stop until the game was over. I've never been prouder to be a New Yorker.
— Paul Casey
•
Education Of A Blue Jays Fan
. The boo's and taunts reigned down from seemingly everyone around me. I was sitting in the bleachers of Yankee Stadium, at a relatively meaningless afternoon game in late May of 2003. Toronto was in town, and the sky was overcast – not exactly the recipe for a particularly riled-up crowd. But that didn't matter right now, because a Blue Jays fan, out of ignorance or sheer defiance, decided to not only sit in one of the most ruthless cheering sections in sports, but also thought it would be fun to wear face paint. That was a mistake. The fans let him have it, not-so-politely reminding him that this was Yankee Stadium, a place once called home by the likes of Babe Ruth and Joe DiMaggio, certainly no place for fans of the enemy, especially those who wore face paint. He was booed, screamed at, probably threatened. He was 12 years old. To say the least: it is a rather jarring experience, to sit amongst the 'Bleacher Creatures' on your first ever trip to Yankee Stadium. —
Ryan Hudson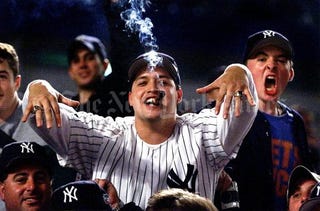 •
Drinking It All In
. Having spent four years as a Red Sox fan/college student in the Bronx, I made it to the Stadium quite a few times. In '03 myself and three fellow New Englanders went down to scalp ticket to Game 2 of the ALCS. Amazingly there were no scalpers in sight. Our group split up to look for tickets and everyone found single tickets except for myself. As I'm asking around for a ticket, some guy walks up and says his son found one laying on the ground: Me: "How much?" Guy: "Just take it" ???????????? Hell. Yeah. Instead of sitting separately, myself and a buddy stood in a tunnel behind home plate. As we're standing there with a couple overweight New Jersey Italians (obviously) and a cop, one of them decides to go on a 10 minute rant about how Karim Garcia's an underrated hitter and a "pitbull." He then bets me a beer that Garcia will get a hit in his next AB. He pops up. Idiot fucking Yankee fans. Despite being a 19 year old sophomore in college and looking like 13 year old, the cop immediately turns to the Garcia admirer and says "Buy this kid a beer!" You gotta love crooked cops in the Bronx. Its no Fenway, but the Stadium ain't bad.
— Keegan
•
Yankees! Oy!
. When I was in 6th grade (1992), my stepfather took me and my best friend into the stadium from New Jersey for a school night game. We sat in the bleachers surrounded by a group trip from a Bronx public school. Sitting 400 feet away from an insanely boring game, they wasted no time starting in on the two suburban kids. The locals quickly realized they shared a cultural background with my friend - Dan Gomez - but he had one familial trait they definitely didn't share. A Jewish mom. The tail end of the conversation went something like this: "Whats your name, man?" "Dan Gomez." "Gomez... What church you go to?" (fairly typical Bronx question to figure out where you live) "Temple Beth Isreal" /record scratch /we meet up with my uncle by his company seats. —
Dan Crawford
. •
Ball Boy
. 1996. May. Beginning of the Torre era — people are underwhelmed. Dad takes the 6 year old little brother to the game over me because John is pretending to me a Yankees fan just to piss off the rest of our Mets-loving family. Seats are in the old front row of the stadium — before they shoved in 3 rows and folding chairs. It's an afternoon game in the middle of the week against the Red Sox (which meant nothing then, obviously) and the crowd is sparse and drunk. I come home from school, start watching the game on TV. Yankees are already down by at least 5. Around the 4th or 5th inning, you can hear a chant coming from the crowd, but can't make it out, and the announcers remark that there's a "commotion" in the stands near the 3rd base line. The commotion was that a foul ball came into the stands, John stooped to pick it up, and some guy grabbed it from him. The crowd, specifically a hugely obsese man sweating booze profusely, was not happy. For 3 innings, the crowd heckles this guy, screaming at him to give the kid the ball, profanity, threats of violence. Guy shoves the ball in his pocket as far as possible, is squirming in his chair, says to my father, I have kids, too, you know. Dad's like, What would you like me to tell these drunks?. Fat Man gets the brilliant idea to start a chant. And so for two to three innings, "Give the kid the ball!" rings throughout The Stadium. Finally, the Red Sox 3rd base coach runs into the dugout, grabs a ball, and brings it over to John. The crowd cheers and their little hearts are warmed, but you bet your ass Ball Guy left before the end of the 7th.
— Erin Lamb
•
Unlimited Texting
. I have a friday package and typically the soon-to-be Mrs. Dont-forget-where.... comes to the games with me. She couldn't go so I took my brother. We had beers etc. Around the 3rd inning this guy and his girl sit behind us because "the heights are really getting to me." She continues to fucking whine about the seats over the course of the next 3 innings. "These seats suck", "why couldn't you get us better seats" etc. I sent a text message to my lady saying something like "This guy's gf behind us is such a bitch, you are the best." Because, really, she goes to the games and has a good time, doesn't complain about anything and lets me drink to my heart's content. It should be noted that I have a Blackberry. With a sizable screen. Later on, I see the girlfriend coming up the aisle, I have seats 1 and 2, right on the aisle. As she passes me, she bumps into me and hits me in the head with her purse. I ask her: What the fuck was that? Her: Oh I'm sorry, was that
bitchy
of me? So then I ask the boyfriend: Dude, what the fuck? boyfriend: maybe you shouldn't be writing text messages about people right behind you. woooooooooooooops!
— Dont-forget-where-you-came-from-cheese mac
•
Perfect Day
. It was the rain delay in the third that almost cost me my future wife and kids. Belinda and I started dating in late June1999. She had moved to New York from England a month earlier and had never seen a baseball game. As a Phillies fan I wasn't about to take her to Shea. So in mid July, when a friend of hers from home was in town visiting for a few days, I bought tickets to an afternoon Yankees/Expos game, alerted a some friends that an unfettered blond bird would be with my new girlfriend and I, and the five of us (I had two rather desperate friends) and about 40,000 Yankee fans piled into the uptown four and headed north for the girls' first (and probably only) trip to the Bronx. It was July 18th, and it was Yogi Berra Day, and we admired the little pins they gave out to mark the occasion while we waited for our watered down beers. And David Cone was about to throw a perfect game. The rain in the middle of the third came down pretty fast, in big fat raindrops. We were sitting on the third base side, about half way down the line in the loge level, close enough to the front that we got pretty soaked. In the heat nobody really cared about the rain per se, but when play finally resumed I kept looking at my watch. Belinda's friend needed to catch a train and we needed to get her back to B's apartment in the West Village first to get her luggage. We would have to leave early. Which was fine with the girls, who were out of polite questions and attempted cricket comparisons and quickly losing interest: "It's boring. Nobody's getting any hits!" Eric shot me a severe glance. It was the middle of the sixth. Nobody would utter the words but everyone was aware of the scoreboard (except for Drew—the only New Yorker among us couldn't care less about baseball and was relentlessly and unsuccessfully hitting on the friend). By the top of the seventh it was decided: Belinda had to get her friend back to Manhattan and assumed I was coming with them. I wasn't a Yankees fan anyway, she knew that much already, and they didn't really know where they were going. I put off a decision 'til the Stretch. "I can't go." And added, above Eric's protestations at the potential jinx, "you don't understand. He's throwing a perfect game." (A high school friend once missed Ron Hextall's first goal in 1987 because his father wanted to "beat the traffic." That wasn't happening to me.) The girls got up and left at the end of the seventh. They were nice enough about it but I still felt like an asshole. Chances were that a meaningless midseason lopsided interleague game between two teams I could care less about was about to end in a very underwhelming one or two hitter that would be feted for barely 30 seconds on Sportscenter before disappearing for good down the memory hole. And I'd just secured some pretty serious negative points, at best, in order to watch it. And then we stood through the eighth. And stood for the ninth. And then he did it. We jumped up and down and high-fived and cheered, as much for David Cone as for our good fortune of having been there to see his gem. I was out of the doghouse pretty quickly as all the hoopla surrounding Cone's feat (guy had his own DAY in New York) was inescapable for a few days; Belinda realized it was a big deal. I've often wondered if I'd be living in England now if it wasn't for those final six flawless outs.
— Christopher Morrison
If you've got a Yankee Stadium story to tell, send it to me at Rick@Deadspin.com. More on Monday ...