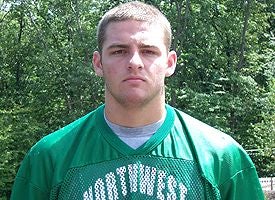 I think it would be a really compelling episode of Mike & Mike in the Morning if Golic, followed by a handheld camera, were to go down to the South Bend police station to bail out his son, Mike Jr. The lad was arrested for drinking at a party, along with other members of the Notre Dame football team, on Saturday night.
Yeatman, 20, and Golic, 18, were charged with being minors consuming alcohol, said Sgt. Al Taylor of the Indiana State Excise Police. Others arrested included members of the Notre Dame lacrosse and soccer teams, he said. The charge could be more serious for Yeatman, who was arrested in January on a charge of driving drunk on a campus sidewalk. Police made the arrests after Notre Dame returned to South Bend following a 23-7 loss Saturday at Michigan State. St. Joseph County Police spokesman Sgt. Bill Redman said police were targeting businesses that reportedly had sold to minors when they received a report about the party. Those arrested were taken to the St. Joseph County Jail. Neither Yeatman nor Golic, whose father, Mike Golic, co-hosts "Mike & Mike in the Morning" remained in the jail Sunday evening.
Of course, Mike is furious over his son's irresponsible antics. He's probably still screaming at him; "I can't believe you were hanging out with
soccer
players!"
UPDATE
: Gollic says on air "He'll learn from this...He'll talk about it more when he learns about the situation. " Greenberg: "He's the type of kid everyone wants their kid to be like. He's a great kid."
Notre Dame's Will Yeatman And Mike Golic Jr. Busted For Underage Drinking
[You Been Blinded]
Brief Weis Statement On Yeatman, Golic Arrests
[Chicago Tribune]
Irish Blitzed, during the game and after
[Dr. Saturday]