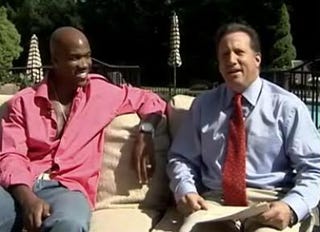 The quote machine that is Stephon Marbury sat down with News 4 New York's Bruce Beck in the backyard of Marbury's Westchester home earlier today and discussed his future with the New York Knicks. Marbury was trying to make the point that he's ready to be a steadying influence on the team, and not, you know, a wingnut. And he was succeeding, all the way to the point, about halfway through the interview, when a bee landed on him. Then things got weird.
Here's the video,
where, about halfway through, you see a bee touch down on Marbury's pants. It didn't sting him, but the insect seemed to jolt him into wild a digression about a previous interview, with Beck struggling mightily to steer the interview back to calmer waters. Note to future interviewers: Always talk to Marbury indoors. For the record, Marbury said that he would like to remain a Knick, because he loves New York, but he will play elsewhere if he's not wanted. And that includes Boston, where he would be willing, he says, to come off the bench if that means "getting a ring."
Further Marbury interview goodness
: • "My mission on this planet hasn't changed. I want to nurture the planet, to guide the planet, to help the planet." • "My heart is too pure, my spirit too clean to harbor any ill will toward Isiah (Thomas)." • "New York is a Show Me state. We're like Missouri."
Knicks Marbury Ready To Move On If Released
[WNBC]