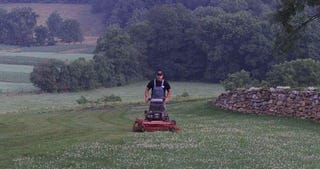 After a few hours of cautious speculation about Matt Millen's removal, it was finally revealed that Detroit Lions' owner William Clay Ford did actually
have to fire him in the early hours of Tuesday morning
. The Detroit Free Press has a surprisingly mesmerizing photo retrospective titled "
The Matt Millen Era
" which is where I snagged the photo featured above. That one just seems to be an appropriate visual metaphor for Millen's reign as Lion's president. Of course Lions fans are
deeply saddened by the news
, holding candle light vigils and vehemently protesting Ford's rash decision. But this move will probably benefit both the team and Millen in the long run. The Lions faithful will finally have someone else to blame for their sustained lousiness or they can actually get a person in there to fix it. And Millen will...well. At least he will have more time to cut the grass. ************* Tonight: It's time to curl up and watch the Phillies' game and see what explodes first — their season or their
fanbase by way of hot dog terrorists.
Thank you for your continued support of Deadspin during this wintry economic climate.
Free Skeets
.