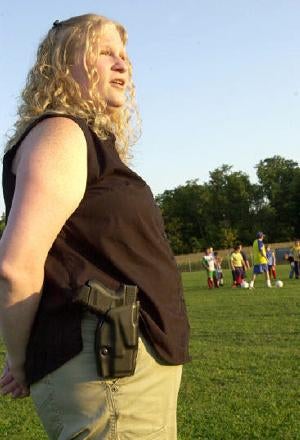 "I know what you're thinking; "Did she give me six orange wedges, or only five? Well, to tell you the truth, in all this excitement I kind of lost track myself. So you've got to ask yourself one question: Do I feel lucky? Well, do ya, punk?" A Lebanon, Pa. woman had her concealed-weapons permit revoked after she was seen packing heat at her 5-year-old daughter's soccer game. Type of gun: a Glock 26, with holster. Because you don't bring a .22 to a Pee Wee soccer game. That would be suicide.
Meleanie Hain, of Lebanon, said she takes her holstered Glock 26 everywhere for personal security and is fighting the revocation by the Lebanon County sheriff. "I'm just a soccer mom who has always openly carried (a firearm), and I've never had a problem before," Hain said in Wednesday's editions of the Lebanon Daily News. "I don't understand why this is happening to me."
If only
Jericho Scott's parents had loved him enough
to come to his games armed, he'd still be pitching today.
Toiting Gun At Soccer Costs Mom Her Permit
[Times Leader]