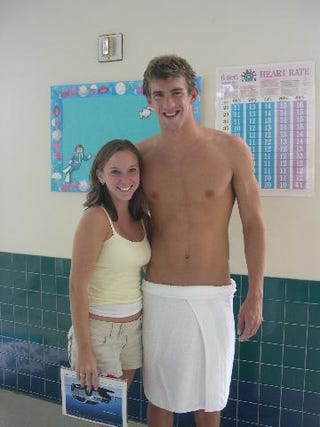 Gold medal winning swim swordsman Michael Phelps is still suffering through his whirlwind media tour and did a painfully uncomfortable on-air interview with 790 The Ticket's Dan Le Batard earlier today. Le Batard, acting in full-on instigator mode, tried to engage Phelps into some playful q-and-a'ing which he wasn't biting on whatsoever. The conversation ending question: "Do you go into the nightclub with these Kellog's products and drop them on the floor with your face on them?". Phelps then not-so-smoothly tried to end the interview...only to unsuccessfully hang up the phone. Instead, listeners were treated to Phelps grumbling about how "ridiculous" the interview was and complaining about how "that guy was a joke." Granted, this post-Olympic life of constantly being asked about what it
feels
like to be Michael Phelps must be wearing on him and everyone tires of sports radio guys, but there has to be a point coming soon enough where everyone tires of Phelps, right? After those gold medals stop being shiny and the milk mustache drys off, we're left with a lanky, trophy-headed guy with the personality of piece a corn warbling about swimming with underprivileged kids in a YMCA pool. He's a real star.
Interview with Michael Phelps
[790 The Ticket] ******* Tonight: Matt Sussman returns and is ready to go all Lil' Wayne on your asses as he live blogs the USC/Oregon State blowout from the comforts of his yoga ball. Tomorrow: Rainy day madness on a Friday and other goodness. Thanks for your continued support of Deadspin, now go wipe
the Skeets
off those pillowcases. Company is coming over soon.