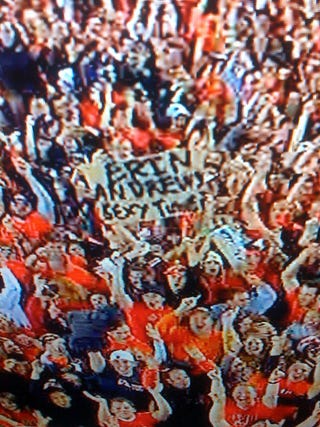 Honestly, I think that Oregon State students were more excited about having Erin Andrews on campus than they were with the Beavers' 27-21 upset of USC. It seems as if
every second sign in the place
had some reference to her. Kudos to Beaver Nation for getting this sign on the air ... a move that was almost as well played as their team's first half, when hobbit-like freshman tailback Jacquizz Rodgers helped the Beavs take a 21-0 lead into intermission.
Some game highlights here
, and
a great photo gallery here
. Also some very unintentionally hilarious headlineage from the WWL this morning, which has already caused several spittakes at Deadspin Headquarters: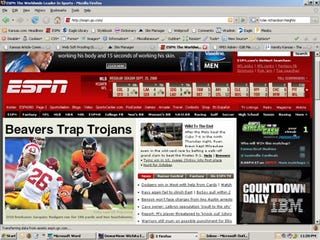 Oh Leader, will you never learn? Over at Yahoo Sports, someone noticed that
their stage photo included an Erin Andrews sign
, and moments later the photo was changed. Then of course there was this, which appeared in the Portland Oregonian: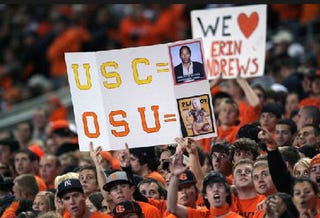 So far no reaction this morning from my USC friends. Hey, you out there? It will be interesting to check out the Coliseum next Saturday and see if there are empty seats for Oregon. All in all, a great night of college football; hope you were able to play along with Suss' live blog. So, who's going to be No. 1 when the dust clears on Sunday? Let's see; Oregon State beat USC, Stanford beat Oregon State ... Stanford is No. 1!
No. 1 USC Shocked By Oregon State 27-21
[Los Angeles Times]