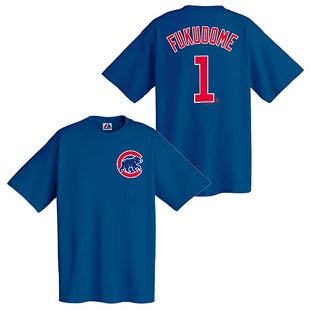 Disturbing news from Oklahoma this morning, where once again our fundamental constitutional right to wear Kosuke Fukudome attire is being threatened by "the man." Rumors and Rants has the story, as apparently one of their readers was sent home from work on Casual Friday for wearing a Fukudome T-shirt. And no, it wasn't a "Horry Kow" shirt,
nor was it this
, or
even this
. It was just a garden variety shirt of the type pictured above. The reasoning by this person's boss was that the name "might be misinterpreted" by others at work. And yet Doris in accounting wearing her Dick Trickle NASCAR jersey is totally fine. Hypocrites.
Details are scarce in the post
, and I would urge Rumors and Rants to get back to us and provide directions to this workplace, so that we can mount an organized protest (please, no "Erin Andrews Sexytime" signs). Meanwhile, more Cubs bashing, this time by Sports Illustrated, which showed its hatred for the franchise
by featuring the team on its cover this week
. Fear and loathing commences over at Home Run Derby, which has an interesting rundown of previous SI jinxes involving the Cubs.
What A Fukujoke
[Rumors And Rants]
The Chicago Cubs And The Sports Illustrated Cover Jinx
[Home Run Derby]