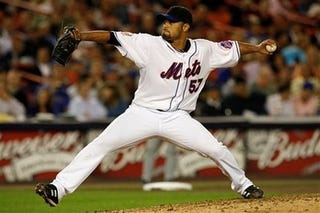 •
Mets 2, Marlins 0
Johan Santana pitched the gem that the New York faithful needed from him. It was an absolutely impressive complete game, three hit shutout. But man, was it bizarre to hear Mets Manager Jerry Manuel talk about the game afterward, "Wow, wow, wow, wow. I think if I had to describe that one, I'd say that was gangsta. That's gangsta. That's serious gangsta right there." Gangsta?
Serious
gangsta? Really? The only thing that'd make that quote more strange is if
Charlie
Manuel had said it. With the huge win yesterday, coupled with a Brewers loss, New York and Milwaukee now stand tied for the NL wild card spot. If both teams were to win or lose, they would play a one game playoff at Shea on Monday to determine who will get to hit the golf links a few weeks early. •
Cubs 7, Brewers 3
Things looked promising for the Brewers heading into the series with the Cubs with Lou Piniella sending out half his bench to start each game. But the banged up Ben Sheets couldn't find his stuff on Saturday and his arm is simply not there. Well, it's there, but it's busted. "I got a broke arm, I got a broke arm. It's not really broke, but it's all I had for the year. Things definitely don't look like they're on my side," Sheets said. Despite heading down the home stretch in less than impressive fashion, the Brewers have to like their chances on Sunday when CC Sabathia takes the mound at Miller Park. Reports are that the Cubs will rest Zambrano. •
Indians 12, White Sox 6
•
Royals 4, Twins 2
The AL Central appears to be the division that nobody wants to win. The Twins hold the edge over the White Sox due to their having one more win currently with Chicago having played one less game. The
scenarios are a little more complex
as to how this can all play out. At this point, I fully expect this to be undecided at close of business today.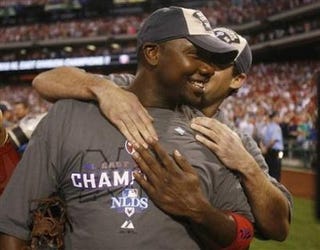 •
Phillies 4, Nationals 3
The drunken high of yesterday's win to clinch their second consecutive NL East title is wearing off as the Yuengling sweats set in this morning. But clinching yesterday as opposed to the final day of the season like last year is a huge plus for the Phils. Cole Hamels can take the day off and will be ready to go in game one of the NLDS on Wednesday. Shane Victorino will also get a much needed day off after a brutal collision in shallow center last night on an incredible basket catch by Jimmy Rollins. Saturday,'s winning pitcher, Jamie Moyer, also started the final game of the 2007 regular season in which the Phils beat the Nats to clinch the NL East. Yesterday, at the age of 45, Moyer won his 16th game of the season. Moyer had this to say after the game, "We dream about this game. You dream about it as a kid. You're 45, and you still dream." The dream is not over.