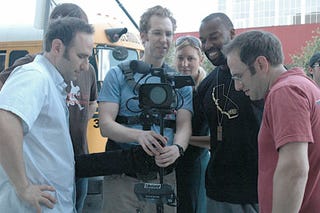 Randy and Jason Sklar, who created and starred in
Cheap Seats
on ESPN a while back, debut their new web-only series,
Back on Topps
, on Tuesday. It's my opinion that a web series about brothers who work at a sports card company will only work if it occasionally includes Dennis Rodman giving relationship advice. And hey, it just so happens that this one does! (Video following the jump). The show premieres at
www.backontopps.com
on Tuesday, with new episodes coming out Tuesday and Thursday of every week, culminating in a full week of new episodes, (one new one each night). "That one will document our quest to get Julio Franco back in the game of baseball at the end of October," said Randy Sklar. "We're excited to finally get this out there. We think it's something Deadspin readers will really enjoy." In addition to
Skar bros. hijinx
, the show will be replete with athlete cameos, among them Rodman, Baron Davis (pictured above) and lots of others. Anyway, I recommend checking it out. But then I've never been known for my taste.
Back On Topps
Cheap Seats Brothers Have New Show
[Lake Tahoe Action]