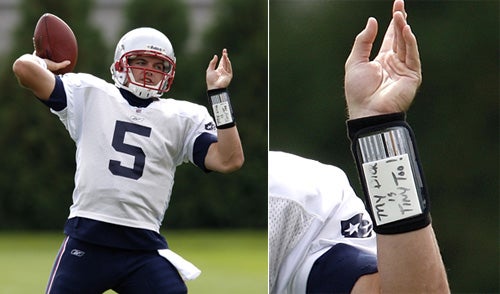 This came in a little too late to make Who's Sorry Now?, but the Boston Globe has issued an apology on its web site that can only be described as comedy gold. The paper today apologized for a photo it ran in Sunday's paper that depicted Patriots' back-up quarterback Kevin O'Connell throwing a pass in practice. Sharp-eyed readers got a bit of unexpected hilarity, as you can see in the blowup on the right. The apology reads:
Editor's note: A photo on Page C6 in Sunday's Sports section showed Patriots rookie quarterback Kevin O'Connell wearing a wristband with inappropriate language written on it. The photo did not meet the Globe's journalistic standards and should not have been published.
From
Scott's Shots
:
Careful inspection of the Barry Chin-shot photo reveals a sticker on O'Connell's left wrist (over his play-call wristband) that reads, "My dick is tiny too!"
Adding to the fun was the Globe's caption: "The Patriots are refining Kevin O'Connell's mechanics, but they believe he has the tools to be a top-flight quarterback." Thanks for sending us the photo, Mr. Anonymous.
Globe Apologizes For O'Connel Tiny Member Picture
[Scott's Shots]