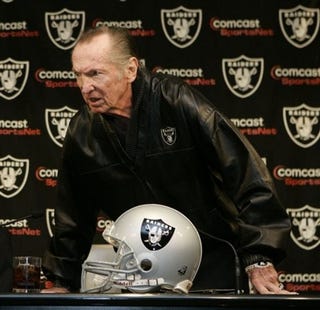 Wow. For those who just witnessed Al Davis' bizarre press conference accusing former head coach Lane Kiffin of "lying" and "propaganda" among other things, I can't tell if I have more respect for Al Davis or am just dumbfounded by the brazenness of it all. Davis has revealed a letter (which he's put on overhead projector for the press corps) that he wrote to Kiffin prior to the Kansas City game outlining the former coach's faults and his bumbling personnel moves. He essentially calls Kiffin a baby for blaming the team's losing record on ownership and for throwing defensive coordinator Rob Ryan under the bus. He also keeps railing about "Mortensen" for breaking the story and accuses Kiffin of leaking the letter to the ESPN reporter because "that's the way he wanted to handle it." (Great question to the local reporters assembled: "Why didn't any of you guys have it?") Part of this a tactical move to publicly demonstrate some "cause" for Kiffin's firing that will allow Davis to get out of paying the rest of the contract, but a lot of it just feels like Davis showing off his scary old Nosferatu side to entertain the assembled reporters. Davis has also accused Kiffin of not wanting quarterback Jamarcus Russell and pouting after he lobbied to push Ryan out to make room for his father, Monte Kiffin. But Davis is insistent that "he wanted to make this work" although it's pretty obvious that he wasn't going to take anymore of this snot-nosed little brat's whining to make it happen. The leading candidate for the job according to
multiple
outlets is offensive line coach Tom Cable. Davis has yet to make that announcement, but that might not come until the end of this press conference which, at the rate he's rambling, might not end until Friday. And, honestly, after seeing this press conference, I couldn't think of a worse scenario for Cable to enter.
UPDATE:
Cable's got it. "Interim head coach." Good luck with that. ***** Tonight: You'll have Deadspin contributor Dashiell Bennett live-blogging the Death Battle For The Central between the Sox/ Minnesota Twins right above here so go there and YELL about all the drama of game 163. Tomorrow: I'll be cutting at out early to stand in Ashburn Alley at the Phillies game so you have to look forward to half-drunk bitching/rejoicing at some point when I get back. Thank you for your continued support of Deadspin and all that stuff. Go to
PFT to get the Florio rundown of this whole affair
.