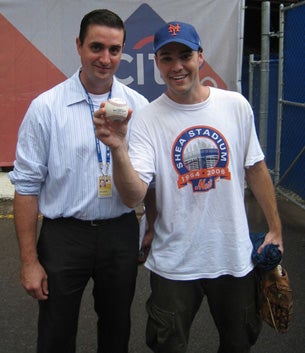 Young Zack Hample, who scrounges for major league baseballs with the determination of a bear in a restaurant dumpster, has recorded rather a noteworthy feat; having caught the final Mets home run ball at Shea Stadium. This came on Sunday (Carlos Beltran), about a week after Hample had caught home run balls on consecutive days at Yankee Stadium. From the Wall Street Journal :
Mr. Hample, whose celebration of his eighth home-run ball at a major-league game was captured by SportsNet New York cameras, thinks a little bit differently than ordinary fans. "Everybody else around me was freaking out because they were happy for the Mets," Hample told me Monday. "I was, too, but I was happiest about catching the ball." The lifelong New Yorker who grew up a Mets fan but now roots more for players added, "I almost started rooting against the Mets," reasoning that a Mets win would mean at least one more game at Shea and possibly more home-run balls, lessening the historic value of his new prized possession.
Let me just say that I don't understand Zack Hample. For a person such as me whose only reaction to seeing a hurtling baseball is to get the hell out of the way — even when I'm playing baseball — this is all very strange. But Hample lives for it; he's
collected 3,816 baseballs from 44 major league parks
. And despite this he's managed to keep a girlfriend, so more power to him. From what I understand, however, many of those balls were obtained by making himself such a pain in the ass during batting practice that players toss him baseballs just to get him to go away. And that's not hunting, my friend. That's just scavaging.
Another Unlikely (But Not That Unlikely) Home Run Catch
[Wall Street Journal]