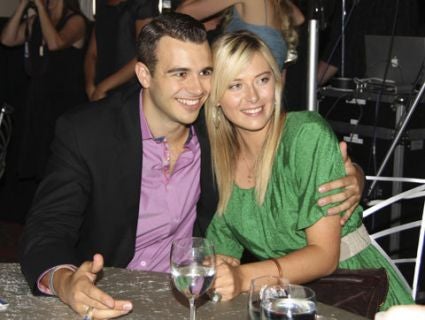 The long-legged tennis grunter is officially off the market again, and this time around she went off-court for her new boyfriend. Sharapova is reportedly dating Charlie Ebersol, 25-year-old son of NBC Sports Chairman and President Dick Ebersol. Charlie, as you may remember, was the Ebersol son who survived the horrific charter plane crash four years ago.
Notre Dame senior Charlie Ebersol and his father, NBC Sports Chairman and President Dick Ebersol, survived a charter plane crash that killed at least two people in Montrose, Colo. Sunday. Both men were seriously injured when the private jet crashed on takeoff at Montrose Regional Airport, hitting a fence and bursting into flames, according to the Associated Press. The crash occurred at approximately 10 a.m. Mountain Standard Time and happened 185 miles southwest of Denver, near the Telluride Ski Area, according to the Bloomberg News Service. Charlie Ebersol helped pull his father out through the front of the plane, which had been ripped apart from its cockpit, eyewitness Chuck Distel told the Associated Press.
Currently, Charlie's some sort of film producer working who's worked with entertainment legends like Ashton Kutcher. Sharapova's still nursing a sore shoulder and won't be able to compete the rest of this tennis season, but she's able to prance around
socialite dinners and auction herself off for charity.
Celebrity Side Dish
[NY Daily News]