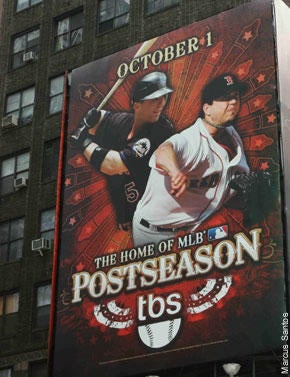 Anyone notice anything wrong with this gi-normous sign promoting the MLB playoffs on TBS? The banner is hanging on 7th Avenue in downtown New York, and features Josh Beckett of the Red Sox and, hmm, who is that other player exactly? Oh TBS, why do you mock them so? From the New York Post :
As if dejected Met fans didn't have enough to moan about, an oversized Times Square billboard rubs salt into the recurring wound with a playoff promotional ad that feature's third baseman David Wright. Of course, as every long-suffering Met fan knows, the not-so-Amazin's missed the postseason for the second year in a row, dashing all October hopes with a last-game-of-the-season loss. Even so, there is Wright, high above Seventh Avenue, bat cocked and ready to take a swing. Likely a swing and a miss, given the third baseman's hitting woes down the ugly stretch. Yankee fans can't be too thrilled with the billboard — for TBS — either since it also features Josh Beckett, who pitches for the rival Red Sox. Workers installed the billboard several weeks ago, when the Mets were still fan favorites and a good bet to make the playoffs.
The great thing is that Mets fans are now blaming the billboard for their team's collapse. "That was the jinx," said Vincent Sanchez, 32, of Kew Gardens, Queens, who blamed the billboard for the breakdown. "You'd think after last year they'd be more careful. What a disgrace." Fan IQ points out that
TBS did this last year as well
, only with the Braves.
TBS Sticks It To New York
[Fan IQ]
TBS Ads To Mets Miser
y [New York Post]