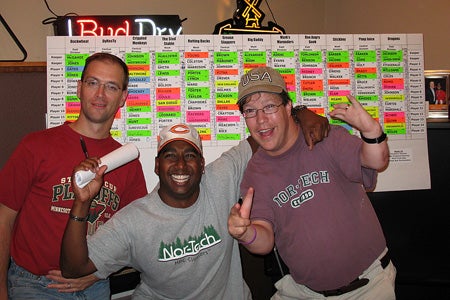 Don't tell Mr. Iracane I said this, but there are times when someone is interested in your fantasy team. Case in point: This somewhat hilarious case from Florida, where murder nearly resulted from a spat over a handful of fantasy football points. "Only one point for a 50-yard field goal? I cut you!" Out of habit, Ed Hochuli has issued apology emails to both parties.
According to a report from the Charlotte County Sheriff's Office, Chester Marcial "Chet" Ward, of the 4500 block of Duncan Road in Punta Gorda, allegedly sliced pages in the book his roommate was reading before holding a knife to his roommate's neck and threatening to kill him. The report stated the roommate, who "was in fear of his life," went to a neighbor's home and called 911. When deputies arrived, Ward admitted to being upset over points from his fantasy football league and that he asked his roommate to move out of the residence. Because the roommate was ignoring him, Ward told the deputies that he pulled out his knife and cut the book as a joke.
Just guessing, but it's a good bet that book had pictures.
Upset Fantasy Football Player Arrested For Allegedly Threatening To Kill Roomate
[Charlotte Sun Herald]
Advice: Don't Take Fantasy Football Too Seriously
[The Hazean]