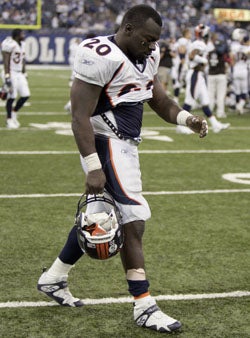 Below is the arrest affidavit on the Travis Henry drug bust from Wednesday, and it's fascinating reading, or at least as good as a typical episode of
The Wire
. All the requisite elements for a compelling cop drama are there, including a snitch, a sting operation, a drug ripoff, and Henry himself threatening to kill every member of the informant's family if some stolen drug money is not returned. The kicker: When authorities arrive at his home to arrest him, the former Broncos running back tries to flee on foot, but is "apprehended after a short chase." Prompting
The Latest Word
to say: "Some things never change." Henry wasn't in the car that was pulled over near Billings, Montana, recently which contained three kilograms of cocaine and six pounds of marijuana (value: about $75,000). The car was being driven by a courier who was being paid $5,000 to deliver the drugs to a buyer in Billings, and when he was pulled over by the Highway Patrol he immediately turned over on Henry, who was the "money guy" in Denver. From the affidavit:
According to CS-1 (cooperating suspect-1), Henry was the money guy and was owed the $40,000 in the robbery of customer 3. As a result, Henry was threatening CS-1 and his family, demanding that CS-1 repay the $40,000 lost by customer 3. According to CS-1, Henry said CS-1, CS-1's family, customer 3 and customer 3's family were all "dead" if they did not come up with the money.
And it goes on.
Here's the affidavit (PDF)
. Fun reading at first, until you realize a bit of the way through that it's all dramatically, depressingly real. It's tough to watch a fall from grace like that, no matter how much you think the guy may deserve it. Anyway, Travis Henry is in a world of trouble right now.
Travis Henry Arrested on Coke Charges; read The Affidavit Here
[Latest Word]