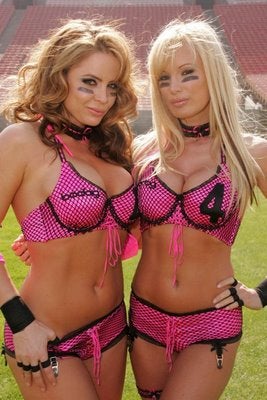 Attention Seattle-area residents: Your dream of becoming a Lingerie Football League star may be about to come true! (Sorry Hasselbeck, girls only). You still have a couple of hours to get down to Greenlake Park for tryouts for the Seattle Mist, the LFL's latest franchise. This is a legitimate football league so only serious athletes need apply ... ha ha, just kidding. Get out that modeling portfolio and wear as few clothes as possible. The details are all right there
on the Mist's MySpace page
:
CASTING DETAILS FOR SEATTLE MIST MINI-CAMP ARE YOU HOT AND TOUGH ENOUGH TO PLAY FOR THE LINGERIE FOOTBALL LEAGUES NEWEST TEAM, THE SEATTLE MIST?? IF SO, WE WILL BE CASTING TO FILL THE MIST TEAM WITH SEATTLES HOTTEST AND MOST ATHLETIC LADIES! CASTING DETAILS: FRIDAY, OCTOBER 3 @ 10 AM (RAIN OR SHINE) Greenlake Park - 7201 East Green Lake Dr. N. Seattle DRESS IN CUTE ATHLETIC WEAR. PLEASE BRING IMAGES TO LEAVE BEHIND. QUESTIONS? CONTACT HEATHER THEISEN AT HEATHERT@HORIZONPROD.TV GOOD LUCK!!
After a handful of seasons existing only for the Lingerie Bowl on Super Bowl Sunday, the league has expanded to 10 teams and will have a regular schedule of games beginning in 2009. Among the franchises are the San Diego Seduction, Dallas Desire and Chicago Bliss, so yeah, they're not exactly shooting for that WNBA fan demographic. At last,
Los Angeles gets a pro football franchise
.
Seattle Mist Official Site
Seattle Mist
[MySpace]
Hot? Like Football? 'Try Out' For The Mist
[The Big Picture]