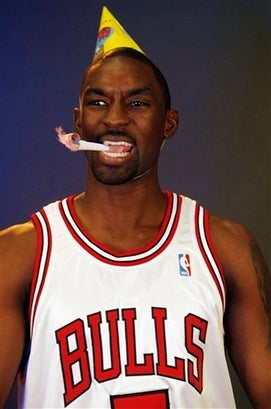 NBA training camps have begun; the season is rapidly approaching. Can you dig it? I knew that you could. And so we continue our previews: 30 of them in 30 days. Up next is a team that wants you to love it live: The Chicago Bulls.
When last we saw them:
Finished 33-49, fourth in the Central Division and 11th overall in the East. Which would have been a pretty disappointing finish even if people hadn't been picking them to go to the Finals last season.
Key Arrivals:
Derrick Rose, Elton Brown (wait, who?), Roger Powell (double who?), Darius Washington (who squared?)
Key Departures:
Chris Duhon (
usually he didn't play much anyway
), JamesOn Curry (no more
public urination
!), Shannon Brown
The Good:
Derrick Rose. (
According to NBA.com
, "Many consider Rose to be a 6-3 version of LeBron James." Wait...what? Really?!) Luol Deng signed a six year, $71 million deal to stay in Chicago, which should keep him from being all sulky and distracted like he was last season. Ben Gordon finally resigned (although only for one year), and he's really excited about it (
according to his agent
, anyway). The core group (Deng, Gordon and Kirk Hinrich) have been together for several years now, and that's supposedly always a good thing (even if it wasn't last year). Drew Gooden and Larry Hughes should be totally integrated into the team now. Vinny Del Negro has
assembled a group assistants
with actual NBA coaching experience (Del Harris, Bernie Bickerstaff, Bob Ociepka). Benny the Bull's
legal problems
should be a thing of the past.
The Bad:
An extremely crowded backcourt (which includes Rose, Hinrich, Hughes, Gordon, Sefolosha and Washington ) is complimented very noncomplimentary by an herbal tea-thin froncourt (which features two players - Joakim Noah and Tyrus Thomas - who couldn't develop an offensive game even if a genie gave them three wishes). Del Negro is a rookie head coach who's already being compared,
by his own GM no less
, to Doug Collins. That is not a good thing in my book. Rose might be their best and most important players, but he's a rookie and it's still unclear whether he'll start or even how big a role he'll play on the team this season. The Bulls used to be a premier defensive club, but they suffered
the biggest defensive dropoff in the league
last year (7.1 more points allowed per 100 possessions). Currently, they don't have that defensive identity anymore...or any other identity for that matter. Ben Gordon's one-year deal means that, once again, this is a contract year for him, and that's probably going to affect his play and attitude. John Paxson has yet to find a reliable low post scorer, even though that's been the team's biggest and most glaring weakness for the last few years. This means — you guessed it! - the Bulls will yet again live and die (mostly die) by the jump shot.
Fun Facts:
The
EA NBA Live 09 simulated season
predicts they'll finish with 41 wins (a sad fourth in the Eastern Conference) and make the playoffs, losing in first round to the Cleveland Cavaliers. Derrick Rose goes by the nickname "Pooh," an alias invented by his grandmother when he was an infant because, apparently, he was yellow and chubby, just like Winnie-the-Pooh. (Seriously.) Rose has a tattoo on his left bicep of a wizard holding a staff in one hand and a basketball in the other, below which is the word "Poohdini." The Chicago Bulls are actually the third NBA team in Chicago, after the Packers/Zephyrs (now the Washington Wizards) and the
Stags
(1946–50). The Bulls logo
has horns that are tipped with blood
; it was designed by noted American sports artist
Theodore W. Drake
in 1966.
Videotastic extra:
I always get a kick out of these Michael Jordan bloopers. Yeah, some of them happened when he was with the Wizards, but he'll always be a Bull...no matter how many other teams he front office manages into the ground.