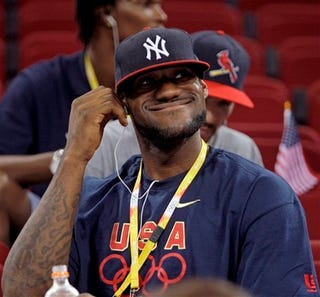 NBA training camps have begun; the season is rapidly approaching. Can you dig it? I knew that you could. And so we continue our previews: 30 of them in 30 days. Up next is a team that is composed primarily of water and carbon: The Cleveland Cavaliers.
When last we saw them:
Finished 45-37, second in the Central Division and fourth overall in the East. They pushed the eventual NBA champion Boston Celtics to seven games and were one Paul Pierce scoring explosion from advancing to the Conference Finals.
Key Arrivals:
Mo Williams, Lorenzen Wright, JJ Hickson, Darnell Jackson
Key Departures:
Damon "I'm the best shooter in the world" Jones, Joe "Signing that secret contract with Minnesota sure torpedoed my career" Smith, Dwyane "The Other" Jones
The Good:
LeBron James is the mightiest mortal on the face of the Earth. Danny Ferry traded for Mo Williams, the latest in a series of potential
Aqualads
to LeBron's Aquaman, to help the team's anemic offense. (Seriously, I've read that Mo averaged 17.2 PPG for the Bucks last season so many times that it's permanently burned into my retinas.) The Cavs were one of the best defensive ball clubs in the league last year, and they should be again this season (despite the Williams acquisition). They're a strong rebounding team; in 2007-08, they led the league in rebounding differential (+4.15). Wally Szczerbiak's $13 million contact expires after this season, which makes him excellent trade bait. They replaced the real Ben Wallace with an
Inflatable Defender
. (Not really, but it would probably help.)
The Bad:
The reason the Cavaliers are so freaking excited about Williams' 17.2 PPG average is because the team's offense under Mike Brown has been historically anemic, consisting of roughly two plays: 1) Have everybody spot up and watch LeBron drive, and 2) have everybody spot up while LeBron dribbles around the arc to set up for one of his trademark clunky threes. But Mo is a shoot-first guard who needs lots of touches to make things happen, which sort of makes him Larry Hughes 2.0 (although he's a better percentage three-point shooter than Larry was). Oh, and he's not exactly sturdy: Mo has missed a total of 54 games over the last three seasons for various reasons. Two of their critical frontcourt players (Ben Wallace and Anderson Varejao) couldn't score on a
Jordan Jammer
. Wallace is gradually transforming into a slow-moving paste.
Fun Facts:
The
EA NBA Live 09 simulated season
predicts that the Cavs will finish 41-41 (fifth in the East) and lose to the Miami Heat in the Eastern Conference Semifinals. The Cavaliers have seven retired numbers (Bingo Smith, Larry Nance, Mark Price, Austin Carr, Nate Thurmond, and Brad Daugherty)...same as the Lakers. Danny Ferry holds the franchise record for games played (723). Last season, Mo Williams suffered from pubic symphysis, which is basically an
ouchie in the man region
Videotastic extra:
All that basketball talent and he can sing too?! Life so isn't fair.