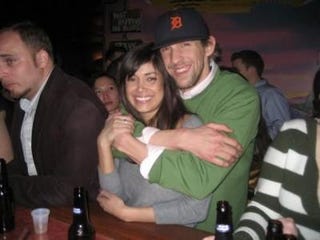 We can forgive Michael Phelps for tapping a far-off state for girlfriend material, and for picking a Miss California
runner up
. But what's unforgivable is sporting a Tigers cap when everyone knows you were born and raised in Baltimore. Attending the University of Michigan is no excuse; you support the team where you grew up, fish boy. Mr. Murray and Mr. Ripken are waiting outside to have some words, and they're carrying bats. But back to Johnson,
or Miss Westlake Village 2007
, to her friends. She was also one of 15 finalists at the 2007 Miss California pageant.
Michael Phelps' New Girlfriend?
[Mojo In The Morning]