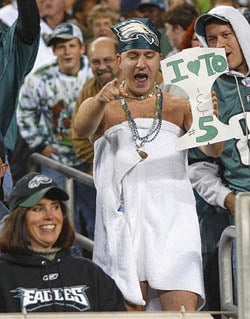 And then there's the other Philadelphia sports team. No, it wasn't all mirth and merriment in the 215 sports community this weekend after the Eagles surprisingly dropped a home game to the Redskins. All that talk about the Birds being the class of the NFC East this season has quieted down, now that they're (ugh) last in the division at 2-3. And now with Brian Westbrook possibly out for an extended period of time courtesy of
two fractured ribs
, the year that once looked so promising is now filled with the familiar stink of uncertainty. Eagles' fans acted accordingly this weekend, as they attacked the Redskins buses with the requisite amount of vitriol and
breakfast products
befitting a fan base notorious for its misguided passion. Chris Cooley commended them on their egg-throwing accuracy:
"You know what, though, they're good shots," he said of the Philly fans. "They've been practicing. You could see them coming in; they were leading the bus. It was good egging."
Other Redskins chimed in with similar stories of Eagle fan churlishness, including young children giving the finger and hurling profanities to "old ladies mooning" according to Redskins' tackle Jon Jansen. At some point this behavior has to become a little less "typical Philly fan", right? Packers fans moon the bus. Giants fans throw eggs. Everybody has their share of lowlifes that attend games but it's always the Philly fans that get singled out for chronic misbehavior problems. It's not the people that are the problems, but it's stories like this that give Philadelphians a complex about their bad reputations. And by "complex" I mean "swell with pride", for most of them.
About Those Philly Fans Egging the Team Bus
[D.C. Sports Bog]
Eagles fans sort of live up to the hype
[Redskins Blog]