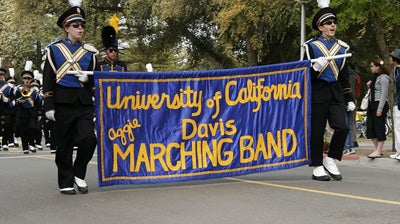 What happens when a new, straightlaced band director tries to instill a little discipline into a notoriously rowdy college marching band? Hilarity ensues, of course. Welcome to the UC Davis Aggies Marching band, which is apparently in big trouble with university authorities for a series of recent rule-breaking escapades, not the least of which involves their "naked van" tradition. Let's catch up with the fun.
When he was hired as director of the loud, rowdy Cal Aggie Marching Band at UC Davis, nobody told Tom Slabaugh about the tradition of "naked van." But on last year's road trip to the football game with Portland State, a trumpet player yelled "naked van!" and everybody in the vehicle — men and women alike — stripped to their underwear. Slabaugh ordered band members to put their clothes back on, but they ignored him, he said in a memo to university officials. Meanwhile, a sousaphone player and a clarinetist wrote "I (Heart) BOOBS" in masking tape on the van's window, causing a motorist who saw the van on I-5 in Oregon to complain to the university.
But that's not all;
this is a list of infractions
that would make Delta House proud. We have four drunken band members caught urinating in a dormitory elevator during a fall band retreat in 2007; we have four other band members seen dropping their uniform pants at band picnic day; women band members sometimes stripping to their bras during rehearsals; drunken hazing; posters with "sexualized" comments in the rehearsal room; and most horribly of all, a bass drummer performing lap dances.
When Slabaugh tried to get the band to behave, he said he faced a barrage of obscene insults and gestures — even a lewd Christmas card from the trombone section.
Frustrated because he didn't have the power to expel out-of-control musicians from the student-run band, Slabaugh took the unusual step of filing a sexual harassment complaint with the university in May. An investigation, as they say, is underway. In the meantime, the Aggies join the ranks of other notorious college bands which have flaunted the rules in recent times. Among them are: • Texas Tech: Suspensions for 19 members who attacked mascot "Rex L. the Bat" during University of Texas game, 1995. • Prairie View A&M, Texas, and Southern University, Louisiana: Suspended for halftime brawl in which Prairie View's sousaphones were damaged in the amount of $20,000, 1998. • University of Wisconsin: Suspended Friday for "seminude dancing," head-shaving and hazing during Michigan road trip, 2006. • University of Virginia: Pep band disbanded after a halftime skit mocking the University of West Virginia as hillbillies, 2002. • Yale University: Suspensions for four band members who dropped trousers at halftime, 1985. And of course ... • Stanford University: Student "Tree" mascot suspended for performing while drunk, 2006; replacement "Tree" mascot ejected from women's basketball tournament for dancing in undesignated area; marching band banned from University of Notre Dame for routine in which conductor, dressed as nun, used crucifix as baton, 1991.
Director Files Complaint About UC Davis Band
[San Francisco Chronicle]