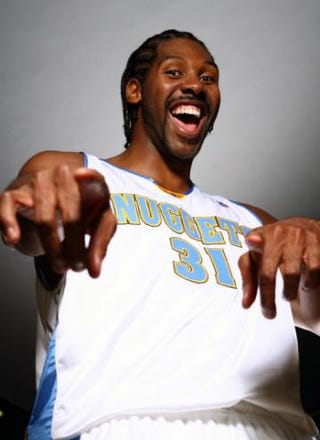 NBA training camps have begun; the season is rapidly approaching. Can you dig it? I knew that you could. And so we continue our previews: 30 of them in 30 days. Up next is a team that couldn't locate D in the alphabet: The Denver Nuggets.
When last we saw them:
Finished 50-32, second in the Northwest Division and eighth overall in the West. This earned them the right to serve as the Lakers' hors d'oeuvres in the first round. (Cocktail weenies! Yum!) Note that the Nuggets had the dubious distinction of being the
only
team that was swept out of any round of last year's playoffs. In fact,
Carmelo Anthony even accused the team of quitting
. It's called "Leadership," people. Look it up.
Key Arrivals:
Chris Andersen (CAW!), Dahntay Jones, Renaldo Balkman (a Knicks castoff! Yes!), Sonny Weems (I like saying "Weems." What about you?)
Key Departures:
Bobby Jones, Eduardo Najera (his hair will be sorely missed), Marcus Camby (his defense will be
very
sorely missed), Taurean Green, Yakhouba Diawara (huh?)
The Good:
Carmelo Anthony and Allen Iverson can and will drop 40-50 points any and every night (even if it takes them 40-50 shots to do it). In fact, the entire team can put the biscuit in the basket: The Nuggets were second in the league in PPG last season (110.7) and sixth in field goal percentage (47.0). Coach George Karl is inspired to
deal with the team's crippling weaknesses
face the team's varied challenges
: "We have probably our most difficult challenge since I've been here, but that's fun, too. If the chemistry goes the right way and the ball bounces the right way, we can be better than we've ever been." (And if random wishes come true, the world's evil will suddenly transform into delicious cupcakes.) Anthony sounds ready to actually, you know,
stop opponents and stuff
: "My teammates seen what I did this summer on the defensive end. With Marcus Camby gone...it's going to almost force us to come together and play defense as a whole and not just have to rely on one person." (Yeah. I'll believe it when I "seen" it, Carmelo.) It's possible that
Camby was the problem all along
. J.R. Smith and Linas Kleiza both get off the bench shooting. (But, uhm, hey J.R.,
the rim is 10 feet high
.) Kenyon Martin's flame is, apparently,
still burning
. Oh, and
Chris Andersen is totally awesome
.
The Bad:
Denver's defense was a joke last season. A bad one. (Like: Knock Knock. Who's there? Amahl! Amahl who? Amahl shook up!) And don't bother quoting
their defensive efficiency stats
to me. The fact is, they couldn't stop opposing teams —
especially
the good ones — when they really needed to, and that, more than anything else, was why they failed. (
And even thier coach knew it
.) Not only did they not address this acquiring a defensive-minded player (like, for instance, Ron Artest), they traded away their best (read that: only) defensive player...
for nothing
. Carmelo and A.I. are still volume shooters who need to handle the rock too much. Iverson's contract is up this year, and it's currently unknown whether the Nuggets will resign him, allow him to leave via free agency or trade him at mid-season, and history has shown that a superstar's contract status can have a negative effect on his play and team chemistry. Much of Denver's hopes rest on the broad shoulders of Nene, but there's no telling if he's back to 100 percent and ready to finally live up to his contractual expectations. (My guess: He's not.) Chucky Atkins is still recovering from surgery on his right knee and will miss all of training camp.
Fun Facts:
The
original Denver Nuggets
were founded in 1948 (as part of the
National Basketball League
) and then disbanded in 1950 (just one year into the NBA-NBL merger). Denver has
a storied history of playing awful defense
, highlighted by the 1990-91 squad that gave up 130.8 PPG. In fact, only two players in Nuggets history have ever made the NBA All-Defensive First Team: Bobby Jones (1977 and 1978) and Marcus Camby (2007 and 2008). Denver has only one playoff game victory in the Carmelo Anthony era. Last season, the seven games separating the Nuggets (50-32) and Lakers (57-25) was the closest margin between an eighth seed and a number one seed since the NBA went to a 16-team playoff format in 1983-84. Yet that series also marked only the second time in NBA history that a 50-win team was swept in a best-of-seven playoff series in the first round. Good times.
Videotastic extra:
Carmelo owned by 10-year-olds.
Ego-ecotomy
.