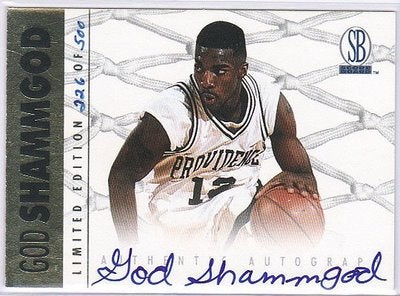 If you're like me, you've never considered your sports card collection complete without an autographed God Shammgod. But does such a card even exist? At last, proof that it does. And what a glorious piece of cardboard it is. From Sportscards Uncensored :
Is this awesome because his name is lord? Is this awesome because he signed his FULL name? Is this awesome because his handwriting is that of a fourth grader? All of the above are true. Consider me among the saved.
Hoops Addict recalls
the greatness of Shammgod, whom, I understand, is now playing for the Portland Chinooks of the International Basketball League.
This Could Be The Coolest Sports Card Ever Created
[Sportscards Uncensored]