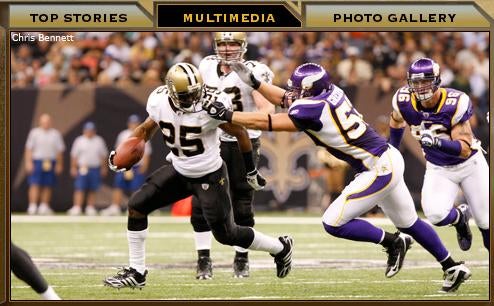 This photo of Vikings linebacker Chad Greenway grabbing a large helping of Reggie Bush's facemask during the Monday night game was on the front page of the Saints' web site this morning; the franchise's way of protesting the fact that no flag was thrown on the play. The genius part of this is that no written mention of the play was included on the site. Lame part: The Saints took the photo down soon after posting it. Anyway, as you may have guessed, Ed Hochuli is once again at the center of the storm. It was Hochuli's crew who somehow missed the very visible violation . And now that everyone knows his email address from previous incidents , The Hoch is getting email about it. And, apparently, he's responding. From SaintsReport.com :
from EDWARD HOCHULI to Jonathan XXXXXXX date Tue, Oct 7, 2008 at 10:46 AM subject RE: How did you miss these? hide details 10:46 AM (1 hour ago) You are certainly free to have your opinions, but if you were a knowledgeable fan, you would understand that there are 7 officials out there, and you would not attribute all errors to the Referee. The face mask, for example, is no where near anything I'm looking at or supposed to be looking at when it happened. It's popular right now to pile on Hochuli, because I blew the San Diego call. And there is certainly no requirement that anyone have any real knowledge of officiating in order to have an opinion. Fortunately, the NFL and my boss don't agree with you. You are free to have your own opinions, and since you took the time to write me, I figured I owed you the time to respond.
His call or not,
the poll numbers are way down for Eddie Pipes
these days, and the magnifying glass he's under isn't going away anytime soon. In my opinion he's going to have to get tougher with these email responses; put on the heels and take of the gloves, as it were. You've got to go negative, Ed. It's the only way to save yourself.
Saints Call Attention To Blown Call
[Pro Football Talk]