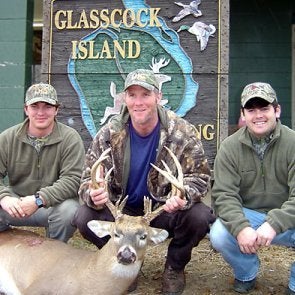 Oh Brett Favre, you and your playful, backwoods prankster antics. In what passes as high-concept comedy in Mississippi and certain portions of Wisconsin, Favre pulled the hilarious gag of leaving a dead animal he had shot in the locker of a Jets teammate. Of course this hasn't been considered original since Davy Crockett did it while a member of Congress, but that didn't stop our non-retired hero. Jets linebacker Eric Barton, you've been punk'd!
Barton could not remember whether it happened last week or the week before. Nor did he know exactly what kind of dead animal Favre shot (presumably), bagged and dumped inside Barton's locker. Some teammates believe it was a wild turkey, but regardless, they all gathered around Barton's locker and engaged in fits of laughter. The dead animal was inside a bag that was filled with blood and guts. "It definitely had the wow factor," said left guard Alan Faneca, whose locker is next to Barton's. "I've never had a dead animal brought into the locker room, so yeah, it's up there." Faneca assumed that Favre was the perpetrator. Barton refused to name a suspect, but did say that "I hope that the animal rights activists find out about it, whoever did it, that cruel person."
Of course, try this stunt just a few miles north
and they tend to frown on it
. I'm also glad to see that the New York Times is all over this story. That pesky economy thing can wait its turn.
Favre Adds Prank To List Of Greatest Hits
[New York Times]