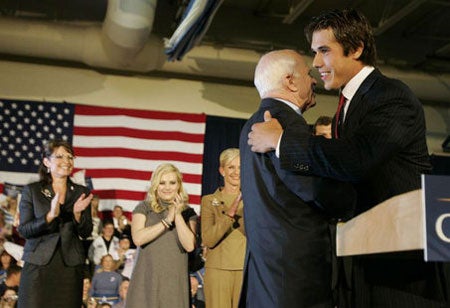 In politics it's known as the Brady Quinn Bounce, and John McCain has it. Our Cleveland Browns hero made a surprise appearance at a Strongsville, Ohio Republican rally on Wednesday (along with Browns lineman Joe Thomas), where he told enthusiastic McCain-Palin supporters at the Walter F. Ehrnfelt Recreation and Senior Center that they should "support the underdog." I can feel the momentum building, can't you? Brady Quinn, John McCain and Sarah Palin, on the same stage. How great is America? OK, so it wasn't exactly LeBron James , or even Cliff Lee. But you take what you can get. From the Cleveland Plain Dealer :
Never mind that Quinn's popularity is all about image and hope, with little game experience to back it up — the same qualities McCain accuses Democratic candidate Sen. Barack Obama of at each stop. In Strongsville, he and Palin sent the sharper attacks they have been leveling at Obama this week to the bench and pulled the backup Quinn off it to add a little more pep to an already boisterous rally.
Here's some video of the event
. At the end, McCain tells Quinn "Good luck this Sunday." Does he know the Browns are playing the Giants?
McCain, Palin Let The Dogs Out In Strongsville
[Cleveland Plain Dealer]
Brady Quinn Stumps For John McCain
[19actionnews]
For Those Of You Who Have Any Lingering Lust For Brady Quinn
[Towleroad]