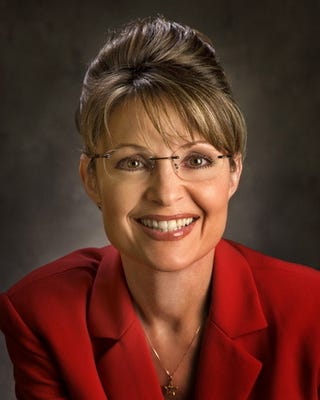 Yesterday the
Philadelphia Flyers announced that a special guest
will drop the ceremonial first puck for their home opener against the New York Rangers Saturday night and it's none other than everyone's favorite moose killer, vice presidential candidate Sarah Palin. Although Palin has no direct ties to Philadelphia (no, she can't see it from her backyard) many have questioned if she's an appropriate choice . Flyers owner Ed Snider claims that there's no ulterior motive, that she's a wonderful spokesperson for the sport due her strident hockey mom-ness. But others are suggesting that this is a way for the owner just to force-feed his own political agenda during a crucial election. h Snider is a very generous GOP donor who also helped bankroll the
pro-war ad campaign Freedom Watch
, which has always touched a nerve with some of the liberal-minded hockey fans in the city. Now, Philly
Daily News
columnist/blogger Will Bunch
is calling for hockey fans — both liberals and conservatives alike — to protest Snider's choice when Palin shuffled out to center ice this Saturday:
Flyers fans should be outraged — even conservative ones, because this misuse of a hockey game for his political agenda is flat out wrong. I don't think that Philadelphia fans should boo — we're all getting a little tired of that stereotype, eh — or act as rude as the people at Palin's rallies, but I do think that anyone who's as offended by this as I am should stand up Saturday night and turn their back on Sarah Palin, and especially turn their back on Ed Snider. And send Snider a message to take his politics off of Philadelphia's sacred hockey ice and back to the privacy of his his mansion on the Main Line, where it belongs.
This is precisely the reason Palin shouldn't be anywhere near the Wachovia Center, regardless of how "good" she's been for hockey during the campaign trail. If columnists are already calling for some sort of silly protest, there's already a level of unnecessary tension overshadowing the game. Most people want to go to sporting events so they don't have to think about the messy stuff that goes on in the real world. Regardless if this is done for legitimate promotional reasons, it's a little too close to the election to have one of its most visible figures sitting in the stands at the game let alone sashaying out to center ice.
Sarah Palin and Ed Snider's game misconduct
[Philly.com]