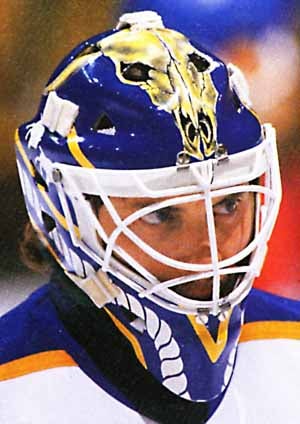 Although Richard Zednik's bloody neck-opening incident last season left many sports fans squeamish for weeks, former Buffalo Sabres goalie Clint Malarchuk's 1989 throat slash still remains the most disturbing and terrifying. (Video here — if you dare. ) And even though it seems statistically impossible for a man to endure two fluky, wince-inducing injuries above the shoulders in one life time, Malarchuk has done just that. Yes, the man who almost had his head severed by a flailing ice skate can has now survived accidentally shooting himself in the chin:
Officers were dispatched to the Malarchuks' home at 2:30 p.m. Tuesday after his wife reported her husband accidentally shot himself, according to reports. When deputies arrived, the paper said, he was sitting on a bench next to a horse tack storage room, bleeding profusely from his chin and mouth. Malarchuk's wife said when she arrived home from work her husband was in the backyard, and said he had been shooting rabbits with a .22 rifle. She said Malarchuk stood and placed the rifle butt on the ground between his legs and the rifle discharged, striking him in the chin. He reportedly was belligerent with paramedics and with health center staff, refusing treatment.
He refused treatment. Just get him a paper towel and some Wild Turkey and he should be fine. But seriously — Malarchuk's wife shouldn't let her husband butter toast without wearing a knight's helmet.
Apparently, Cliff Malarchuck hasn't been through enough
[Puck Daddy]