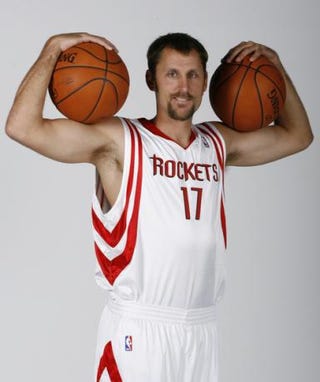 NBA training camps have begun; the season is rapidly approaching. Can you dig it? I knew that you could. And so we continue our previews: 30 of them in 30 days. Up next is a team that got 27 percent crazier in the offseason: The Houston Rockets.
When last we saw them:
Finished 55-27, third in Southwest Division and tied for fourth overall in the West. Despite a second-best-ever 22-game winning streak, the Rockets got escorted out of the playoffs in the first round by the Utah Jazz. It was the second consecutive year the Jazz have eliminated them.
New Arrivals:
Brent Barry, D.J. Strawberry, Joey Dorsey, Ron Artest, Von Wafer
Tear-filled Departures:
Bobby Jackson, Steve Novak
The Good:
The Rockets were already a top defensive team - last season they were second in opponents field goal percentage (.433) and fourth in points allowed (92.0) - and the addition of Ron Artest, a former Defensive Player of the Year should make them even better. Speaking of Ron-Ron, he remains a Top-20 talent who can score from anywhere and defend like a pit bull at virtually any position (except maybe center). On the subject of centers, Yao might be the best in the game...when healthy (22.0 PPG, 10.8 RPG, 2.0 BPG and 50.7 percent shooting in a career-high 37.2 minutes per game last season). Yao has also become more of a team leader. Tracy McGrady is a spectacular scorer who might be the team's best playmaker (5.9 APG last season). Shane Battier is a selfless defender who brings a smorgasbord of intangibles to the table. The team's three-point shooting should be greatly improved by the additions of Artest (who will help draw the defense away from Rafer Alston) and Brent Barry (a career 40 percent three-ball sniper). The Rockets are a great rebounding team (their +3.97 differential was second-best in the league last season) and they're as deep as any team in the NBA (with Barry, Battier, Chuck Hayes, Luther Head, and Carl Landry coming off the bench). No matter how you measure it, Houston has championship-caliber talent.
The Bad:
Ron Artest, for all his All-Star talent, is also a lock for the league's Crazy Bastard Hall of Fame. And if you don't think his antics can undo a championship contender,
you should go talk to members of the 2004-2005 Indiana Pacers
. Then there's the injury bug: The Rockets lost a total of 127 games last season to injuries, with a combined 43 missed games between Yao and McGrady. Yeah, and those two guys appeared in the same game only 40 times in 2007-08. Even more troublesome are the following facts: Yao hasn't played more than 57 games in any of the last three seasons, and McGrady is still recovering from offseason knee surgery
and
has been struggling to deal with an arthritic shoulder. Hell, even Shane Battier is expected to miss most of the exhibition season with inflammation in his left foot. If history has proven anything, it's that teams whose key players can't stay healthy cannot win an NBA title. Rafer Alston is inconsistent (at best) at the point and he shot below 40 percent last year...for the third consecutive season. Oh, and then there's the whole "Tracy McGrady and Yao Ming have never made it out of the first round of the playoffs" thing...
Fun Facts:
The slogan for the 2008-2009 Rockets is "Get Red."
As their team Web site says
: "Red. It's the color of passion and energy. It represents fire, heat and intensity. In so many ways, red is the color which perfectly reflects what the Houston Rockets and their fans are all about, especially with regard to this upcoming season - one in which excitement is already building to a fever pitch." Do you have the fever? I suggest bed rest and lots of liquids. The Rockets were founded in 1967 in San Diego and joined the NBA as an expansion team for the 1967-68 season. The franchise was named the Rockets because San Diego was calling itself "a city of motion." Jeff Van Gundy has the worst hair in team history. If, in fact, it is even hair and not some kind of space parasite.
Videotastic extra:
Okay. Get ready for this: Clutch, the Rockets mascot, eats a cheerleader whole, gets beaten up by the other cheerleaders, and then vomits the original cheerleader back up. Gripping stuff.