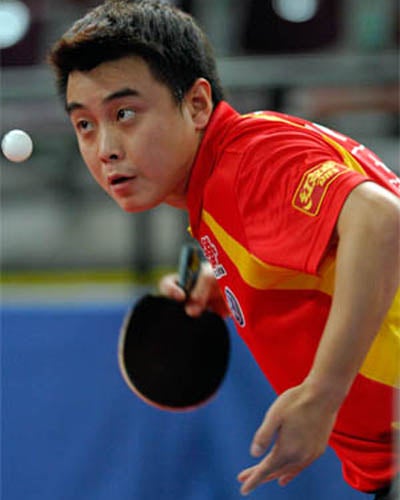 This story has it all: Ping Pong, drunken urination, karakoe, and of course at the center of it all a man named Wang Hao. Wang, who is China's most famed table tennis player, was involved in an altercation with a security guard on Thursday when the guard tried to stop him from urinating outside of a karaoke club. Now that's about 100 hilarity points right there, but there's more. Wang, while fighting with the guard, allegedly uttered the following quote, sure to become a classic:
"I am the famous Wang Hao! I am the world champion! Does it matter if I beat you?" shouted the 24-year-old, according to a witness quoted by the papers.
This replaces my previous favorite quote from that part of the world: "Join me or die. Can you do any less? For lucky best wash, use Mr. Sparkle." Pacman Jones, you can only stand in awe of this man's greatness. Wang will reportedly get counselling from China's national table tennis team, and I'd pay money to sit on on those sessions. But the sad thing is that the incident has rattled Hao to the point where he lost a regular league match over the weekend — a rarity. He will also face punishment from his army-affiliated club Bayi, according to the Shanghai News. That's a lot of flak for peeing on the side of a building. But hey, it's China.
China's Wang To Get Help After Karaoke Club Fight
[Guardian.uk]