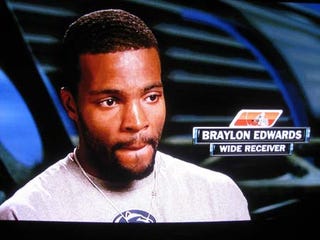 Here's Cleveland wide receiver Braylon Edwards proudly representing the school logo ... unfortunately though, it's the wrong school. We know that the Wolverines have been struggling lately, but Penn State, a Big Ten rival? That's cold, man. Edwards channeled the JoePa mojo to catch five passes for 154 yards and a touchdown to lead the Browns 35-14 over the Giants. Eli Manning threw three interceptions, giving him
plenty to review on his new video system
down at the Jersey condo. More importantly, Derek Anderson threw for 310 yards and two touchdowns, pushing Brady Quinn back to second place on the depth chart perhaps for good and
giving John McCain serious cause for reflection.
About the game: Did not like, Eric Wright's Deion Sanders impression during his 94-yard interception return for a touchdown.
I still prefer this Eric Wright
, since he owns four Super Bowl rings. Did like: The fact that the Browns did it without Kellen Winslow. Also,
their throwback helmets
. So another pretty amazing upset this week, and the Browns' first Monday night win since 1993. I can't help but feel that this is all a setup for an elaborate letdown later on, but hey,
the Bone Lady is partying tonight
.
A Night To Remember: Explosive Browns Overwhelm Super Bowl Champ Giants, 35-14
[Cleveland Plain Dealer]