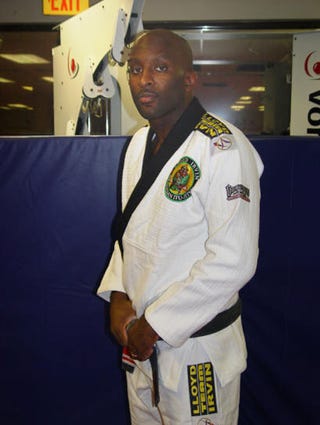 A world champion athlete and his family are taken hostage in their own home by gun-toting robbers, one of whom demands cash and valuables. But suddenly, using his martial arts training, the athlete disarms one of the gunmen, and chases them both away. Family safe. If you're wondering why you haven't heard about this, well, so am I. We should be seeing this on SportsCenter day and night, interrupted only by occasional Trey Wingo NHL highlights, right? Why haven't we? Because the athlete in question is involved with the MMA circuit, and the whole thing is rather dodgy. Meet Lloyd Irvin, the 2008 IBJJF World No-Gi Champion in the super-heavyweight division, who is also involved in training MMA and UFC stars at his Mixed Martial Arts Academy in Maryland, among them
UFC star Brandon Vera
. In an "exclusive" with MMA site Bloody Elbow (your most trusted source for news), Lloyd tells of how gunmen broke into his home and held his wife, 4-year-old son and — surprise! — Vera, hostage in a robbery attempt. Then things went very
Walker, Texas Ranger
:
While one gunman held Irvin's family hostage, another gunman directed Irvin to the the master bedroom. According to Irvin, he led the gunman toward his bedroom. Once in the bedroom, Irvin said he noticed the other gunman was far enough away down the hall to make a move to disarm the attacker in his bedroom. Irvin, an expert in Sambo defensive gun and knife techniques, was able to get ahold of the gun in the attacker's hands, first separating the clip from the gun and then removing the gun from the attacker's hands. At that point, the attacker in Irvin's room ran yelling to his accomplice that Irvin had his gun and both gunman fled the house. It's not clear what, if anything, they were able to take with them. Police were called to the scene and have launched an investigation.
Forgive me for being skeptical, and if this really happened, both Steven Seagal and I salute your bravery, Mr. Irvin. But it's hard to take a story seriously that 1. Hasn't run in any newspaper, even though it happened more than a week ago, 2. Has been reported only by an MMA site and a few message boards, and 3. Just happens to be tremendous advertising for your business, a martial arts studio. Hard to imagine someone with stones large enough to fake all of this, but some independent verification would be nice, and I can't find any. I couldn't find the Sambo technique on video anywhere, but
I suppose it's similar to this
. Probably not very useful against someone
coming at you with a piece of fresh fruit
, however.
UPDATE
:
Irvin Speaks to Deadspin, talks about ordeal
No Holds Barred Message Board
BloodyElbow.com Exclusive: Lloyd Irvin, Family And Brandon Vera Attacked By Two Gunman In Irvin's Home Saturday Morning
[Bloody Elbow]