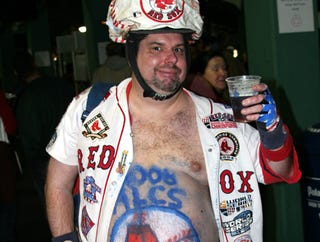 Hey, if this guy can't spur the Red Sox on to victory, no one can. What they're saying on the intertubes about Tampa Bay's 13-4 victory over Boston in Game 4 of the American League Championship Series ...
•
ALCS Game 4: Postgame Thread
. Did you watch game four? Are you unhappy about it? Ask your doctor if
Prozac
this thread is right for you. Double-blind clinical studies have shown that concentrated randomness dulls the effect of postseason loss. Game recap, in Haiku form:
He sets and he throws — A knuckleball, high and flat; Another home run.
[
Over The Monster
]•
Remember The Idiots
. All right folks, we've been down but not out before, and hopefully, we can do it again. We are missing a few pieces,like Lowell and a 100% Ortiz, but the beauty of baseball is that its not over until yada yada yada. We as fans cant lose hope. Also, granted, Wake had a horrible game, but lets not hate. He has given the Sox plenty of solid games in the past, and he deserves some respect regardless of last night. So lets give Tampon Bay some serious Red Sox business for the next 3 games. Lets go, Red Sox, clap, clap, clap-clap-clap! [
Big Papelbon
] •
Maybe Rays Should Install One Of Those 'Monster' Things
. THE GOOD: The Monster. Think we could get one of those in the Trop for next season? In 2 games the Rays have hit 7 home runs over the Monster and have added many more dents to its face...Chasing Tim Wakefield early. Too many at bats against a knuckleballer can mess with a player's swing. THE BAD: Red Sox fans with reverse Mohawks. Find it funny that those Sox fans could only "react" to something Rays fans were doing. Guess they couldn't come up with their own thing. [
Rays Index
] •
Must Be Hahd To Stay Warm, Sittin' On That Bench!
Well, that game sucked. Many photos to come, but really the highlight of the evening was the extremely drunk/irate guy in the right field box section behind us who decided that he hated Rays relief pitcher JP Howell. [
Blue Cats And Red Sox
] •
The Sound Of Silence
. Under those circumstances, I'd say silence is about the most appropriate — and not to mention the most dignified — reaction to watching your team getting its ass kicked in a nationally televised championship series. I don't know what else those TBS commentators are expecting. [
Cursed To First
] •
Apparently, These Necklace Things Have To Go
. "Why do the Red Sox look so stagnant?" you might ask. "Even Kevin Youkilis' newly grown hobo beard isn't helping!" Fortunately, I think I've found the reason things have gone haywire. And friends, it comes to us from a weird source: WebMD.com. Apparently, a site once used primarily by hypochondriacs is now
breaking news about Major League Baseball
. Kinda sorta, anyway: [
Red Sox Monster
] •
Rays Romp Red Sox, Take 3-1 Series Advantage
. WOW! Amazing! Incredible! Rays Win, Rays Win, Rays Win! Ok, so my thoughts are bit jumbled. Can you blame me?! If you saw what I saw you're probably just as jumbled! What an amazing game! All facets of the game came together last night to culminate in a Rays romping of the "invincible" Red Sox 13-4. Yes, you read that correctly. The Tampa Bay Rays dismantled the Boston Red Sox in Fenway. Great to see Red Sox Nation spilling onto Yawkey Way before the 7th inning! [
Rays
] •
Got You Where I Want You
. Excellent work, I say. By allowing ourselves to once again assume the role of Ned Beatty in Deliverance, by dropping our third straight playoff game to the Rays, and by being outscored 22-5 since the series came to Fenway, we have successfully lulled our opponent into a false sense of security. [
Surviving Grady
] •
Boston Vaginas Outhustled, Outworked, Outclassed
. For a few moments this weekend, it looked like the Boston vaginas might have turned the tide of the Rayvolution. But come on — calling on Winston Churchill? Going bald? These are the actions of a fading dynasty desperate to keep alive a past that has passed them by. Kind of like tossing out 42-year-old impotent has-beens like Mike Timlin and Tim Wakefield to face the virile and potent young studs of our Devil Rays offense. [
Bugs And Cranks
]