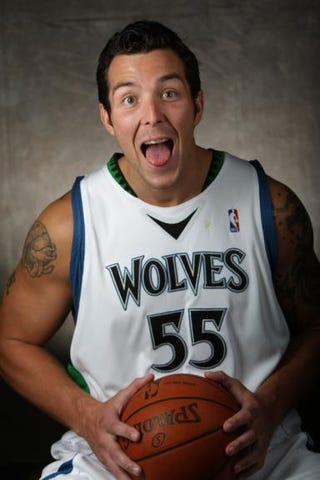 NBA training camps have begun; the season is rapidly approaching. Can you dig it? I knew that you could. And so we continue our previews: 30 of them in 30 days. Up next is a team that, due to its role in Boston's resurgence, is like the bizarro NBA champions: The Minnesota Timberwolves.
When last we saw them:
Finished 22-60, fourth in Northwest Division and 13th overall in the West, sadly watching KG reach the promised land without them.
Shimmying on in:
Brian Cardinal, Calvin Booth, Jason Collins, Kevin Love, Mike Miller, Rodney Carney
Shimmying on out:
Antoine Walker, Greg Buckner, Marco Jaric, Antoine Walker (his departure is worth noting twice)
The Good:
The Wolves have a solid franchise/foundation piece in Al Jefferson, who was the only NBA player to average at least 21 PPG and 11 RPG last season. (He was also only the second Minnesota player - with Kevin Garnett being the first - to ever accomplish that feat.) He loves to score and doesn't mind hitting the backboards (he grabbed 16+ rebounds 10 times in 2007-08). The Acquisition of Mike Miller should improve the Minny's lousy outside shooting (see below) and help spread the floor for Big Al to do his thing (double-teams severely limited Jefferson's effectiveness at certain points last season). First round draft pick Kevin Love's strengths are well known - high basketball IQ, footwork, solid mid and long-range shooting, "legendary" outlet passing, and an expansive inside scoring repertoire - but less well known is the fact that
he's gotten himself into amazing shape
. With Miller starting at the two-spot, Rashad McCants is going to be able to explode off the bench (he averaged 14.9 PPG last season). Randy Foye - who played only 39 games last season - is healthy and will be looking to build on last season's strong finish (Foye averaged 18.5 points, 5.2 assists and 3.0 rebounds in April).
And the Foye/Sebastian Telfair combo is actually showing some promise
.
The Bad:
Last season, the Wolves were a bad offensive team: 29th in free throw attempts (20.7), 26th in scoring (95.6), 26th in assists (19.9) and 21st in three-point percentage (.350). To a certain extent, they addressed this by drafting Love and trading for Miller and Rodney Carney. But what seemingly went ignored during the offseason was their pitiful team defense: 29th in blocked shots (3.7), 27th in opponent field goal percentage (.472) and 21st in points allowed (102.4). They were also a poor rebounding team (-0.29) and got outscored by an average of 6.8 PPG (making them 26th in point differential). So all coach Randy Wittman has to do is get his guys to move the ball around, shoot a higher percentage from the field and beyond the arc, crash the boards and bust their asses on defense. Yup. That's all. Corey Brewer has loads of potential, but he was awful last year, shooting 34.7 percent from the field and 19.4 percent from three-point range. Jefferson acts as though playing defense might prove fatal. Moreover, he's playing out of position at center, and the guys behind him on the depth chart - Calvin Booth, Mark Madsen and the injured Jason Collins - are, at best, mock-worthy. And on top of all that, the Wolves are an exceptionally young team with little in the way of veteran leadership...which probably explains why they're so awful on the road (they were tied for the second-worst road record in the league last season at 7-34).
Fun Facts:
Minnesota's team name was chosen as the result of a "Name that team" contest (Minnesota is home to the largest population of Timberwolves in the lower 48 states...about 1200). Their generous contributions to Boston's 17th championship are well noted, but note also that it was Kevin McHale's acquisition of Carney, Booth, and a first round pick from the Sixers that allowed Philly to clear the cap space necessary to sign Elton Brand this summer. So, you know, McHale continues to build Eastern Conference powerhouses. Speaking of McHale, take a look at his amazing draft picks from the last 10 seasons: Rasho Nesterovic, Andrae Patterson, Wally Szczcerbiak, William Avery, Louis Bullock, Igor Rakocevic, Loren Woods, Marcus Taylor, Ndudi Ebi, Rick Rickert, Blake Stepp, Rashad McCants, Bracey Wright, Brandon Roy (traded to Portland), Craig Smith, Bobby Jones (traded to Philly), Loukas Mavrokefalidis, Corey Brewer, Chris Richard, O.J. Mayo (traded to Memphis), Nikola Pekovic and Mario Chalmers (traded to Miami). WHAT IS WRONG WITH YOU, KEVIN?!
Videotastic extra:
Does anybody else think that the NBA was insulting our intelligence by creating one of their "Where Amazing Happens" commercials for the 22-win Timberwolves? What's next? "NBA Stadium Restrooms: Where Amazing Happens"?